The most important camping tool you can add to your camping kit is not just one tool, but multiple. A good multi-tool is essential to camping as its a lighter way of carrying around anything you might possibly need. In this article, we want to discuss the best military shovel we have tried so far, and we have tried a bunch.
The EST Gear Shovel, an amazingly durable survival shovel multi-tool is the best tactical shovel/survival gear for almost every situation. This folding shovel is built to last and is about as versatile as they come; this shovel is the perfect camping, survival, emergency, and adventure accessory.
Features of EST Gear Survival Shovel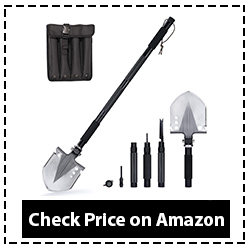 The EST Shovel is a versatile entrenching tool. It really is the ultimate survival tool fitting 18 separate tools into one small and very lightweight tool. The shovel has a hardened-steel, reinforced shovelhead and military-grade aluminum handle. When we tested each tool (multiple times) individually they worked just as well as if they had been a high-quality version of the standalone tool.
This foldable shovel takes up just a small amount of space in a backpack so it's perfect for overnight trips and won't weigh you down. It also comes with a convenient, portable, packable ripstop nylon pouch which makes carrying it around as easy as possible. And don't worry, assembling it is super simple and takes no time at all. Everything about this shovel was clearly designed to be very user-friendly.
The EST Gear Shovel is a great investment to add to your survival kit and survival tools. At just $119.99 you aren't sacrificing quality for an inexpensive price. If you're planning your summer adventures we highly recommend you plan on adding this tool to your kit.
Watch this video to learn more details about EST Gear Shovel.