Survival watches are handy devices for hiking, hunting, camping, fishing, surfing, and other outdoor land or water activities. They allow you to get information about altitude, temperature, and direction. Survival watches look simple, but they have what it takes to keep you safe. That said, you should never head out for an adventure if you're not wearing one.
So what are the best survival watches for 2023? Our research on different websites and customer reviews revealed the following products:
10 Best Survival Watches in 2023
Of course, I won't only present these products here! Let's proceed and see what they have to offer.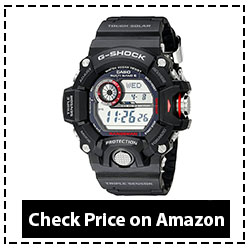 Users all over the globe love G-Shock. People love them because of their durability and excellent design. Casio G-Shock comes in different models that you can choose from. In our opinion, the best of these is the G-Shock Rangeman 9400.
G-Shock Rangeman 9400 is a robotic-looking survival watch. Lots of details are spent on the bezel, case, pusher, crown, and other parts. This watch looks a bit bulky due to the embossments on its edges. Surprisingly, this is quite appealing and has a techy feel.
The Rangeman 9400 is ideal for mountain climbing. Its case is tightly sealed to prevent moisture from entering its inner components. This watch is also shockproof and is the ideal timepiece for bikers and hikers. Lastly, G-Shock Rangeman 9400 is water-resistant up to 660 feet and is useful for recreational scuba diving.
This survival watch uses sunlight for power. This feature allows you to save money from periodic battery installation. This feature means that G-Shock Rangeman 9400 is up and running as long as sunlight is present.
Features:
Solar-powered survival watch
Techy design
Tightly sealed inner components
Shock-resistant and water-resistant
Comes with several functions such as a barometer, thermometer, auto-led, sunrise and sunset tracker, atomic timekeeping function, etc.
Pros
Sturdy survival watch
An ideal watch for high-altitude mountain climbing
Water-resist and shock-resist features stay true to their promise
Cons
The thermometer doesn't give accurate readings
Somehow heavy on the wrist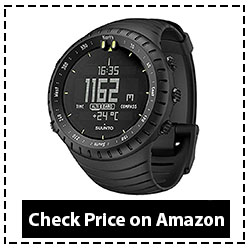 SUUNTO survival watches put an emphasis on simplicity. This watch is suitable for various purposes. Whether it's for fashion or for inland recreational activities, SUUNTO survival watches will not fail you.
We recommend SUUNTO Core Military Men's Outdoor Sports Watch. This is a survival watch with a minimalist design. Furthermore, it uses a dominant black finish for a more uniform feel. Designers did away with useless details and recognized that less might be more when it comes to making survival watches.
SUUNTO Core Military Men's Outdoor Sports Watch will do well for wildlife photography, mountain climbing, hiking, and camping. Similar to the previous product, this watch also has a barometer and altimeter. Still, this product is more suited for outdoor activities because of its weather indicator. The weather indicator is accurate and will be useful for planning your activities with respect to upcoming weather conditions.
This survival watch comes with a smart storm alarm system for you to find shelter before tragedy strikes.
Features:
Minimalist design
Non-bulky appearance
It has a weather indicator
It has a smart storm alarm system
Pros
Design that goes well with formal attire
It uses fewer details on its casing and doesn't get in the way of arm movement
It provides an accurate reading on the likelihood that a storm is coming
Cons
Not a solar-powered watch
It requires periodic replacement of batteries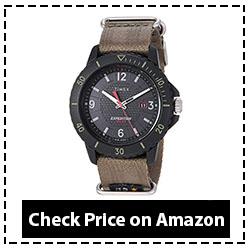 Timex survival watches are great for casual use. One survival watch that we love from this brand is Timex Men's Expedition Gallatin Solar-Powered Watch. Similar to G-Shoch Rangemen 9400, this watch harnesses sunlight to keep on working. You should opt to buy this one if you're fond of survival watches that come in different colors. The colors available for this product are blue, black, brown, etc.
In terms of function, this survival watch from Timex tends to lag behind the previous products. It doesn't have advanced functions such as a barometer or altimeter. However, this watch is very light. Also, the strap of this watch is comfortable and washable because it's made out of fabric or leather.
This watch is water-resistant in depths of 50 meters and is suitable for recreational diving, wind sailing, surfing, and other water sports.
Features:
Solar-powered watch
Comfortable and washable fiber or leather strap
Water-resistant up to 50 meters
Pros
It uses a strap that's very comfortable on the wrist
Lightweight
It comes in different colors
Cons
The casing isn't very stylish
It can't be used for deep diving
Since the strap is fiber or leather, periodic replacement of these parts may be required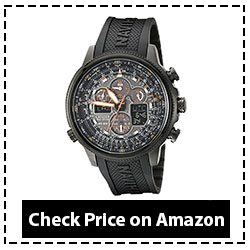 Consumers love Citizen watches because of their accuracy. This is a brand that's innovating how timepieces should tell time. If you're into survival watches that tell the time in various details, Citizen is a good option.
A survival watch that we recommend from Citizen is Navihawk Atomic Timekeeping Watch (Navihawk A-T for short). This watch uses black and orange color tones. The bezel of the Navihawk A-T is very slim. As a result, the circumference of the display is very expansive and makes the watch dial eye-friendly.
The strap of this survival watch looks catchy. It's engraved with "Navihawk". This is the first time that we've seen the model name placed on the strap. In conventional watches, the name is either placed on the upper or portion of the bezel. Sometimes it's even placed at the back of the watch. For this reason, we find this feature highly attractive and unique even though it's simple.
Navihawk boasts features that specialize in timekeeping. The bottom crown has two functions; it acts as a perpetual calendar or as a 1/100-second chronograph that measures up to 24 hours. The digital display on the right serves as a 99-minute countdown timer. Lastly, the two upper crowns measure the time of different cities.
Pros
The best survival watch for timekeeping
Great watch for people constantly traveling between time zones
Slim bezel and wide display
Cons
Submersible but lacks features that make it useful for aquatic use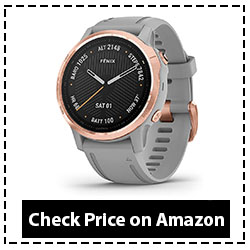 Garmin Fenix 6S Sapphire appeals to women. This survival watch looks very sexy and neat. The bezel is very slim and is treated with a rose gold color tone. The rose color tone goes well with this product's mild gray casing and strap. In our opinion, this product is a female version of Suunto 9.
In terms of functions, Garmin Fenix 6S Sapphire beats Suunto 9. This is a digital analog watch that has features for recreation, travel, exercise, and sports.
This product's heart rate sensor is very useful for sports. The heart sensor is very sensitive. This is particularly useful for mountain climbing in high elevations. Apart from this, this watch also has a digital compass. However, the digital compass isn't very reliable compared to the heart rate sensor. Other equally useful features are the gyroscope and barometric altimeter.
The GPS function has potential. It gives excellent details on available routes such as the names of roads and their vicinity from one another. Garmin Fenix 6S Sapphire's GPS software has the look of a miniature Google map.
For recreation purposes, this watch has access to Deezer for listening to music. The PacePro feature is handy for exercising. It guides your pacing and provides estimates of the status of exercise routines.
Pros
Great survival watch for recreation, exercise, and sports
Accurate heart rate sensor
It has access to Deezer
Highly detailed GPS software
Cons
The design of this survival watch might be too feminine and won't suit men's taste
Not water-resistant
Not shock resistant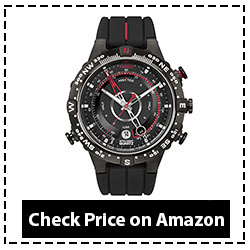 Timex Intelligent Quartz Tide Temp Compass Watch looks better than Timex Men's Expedition Gallatin Solar-Powered Watch. It's more appealing to the eye as it has more details. The watch dial and the aluminum case itself are lined with white and red graphics. This results in a sporty look that you might love.
This watch comes with a thermometer, an analog compass, and a tide tracker. The thermometer measures air and water temperature and is pretty useful for engaging in inland or water activities. On the other hand, the tide tracker provides accurate information as to when high and low tide occurs. Because of this function, we highly recommend Timex Intelligent Quartz Tide Temp Compass Watch to anglers, fishers, surfers, and wind sailors.
Features:
Advanced functions such as a thermometer, tide tracker, and an analog compass
Durable aluminum casing
Sporty look
Pros
It doesn't need batteries
It has the same functions as G-Shock 9400 but lighter
Tide tracker function that's useful for fishing and surfing
Cons
The durable aluminum casing's coating eventually fades
Not a great survival watch for inland activities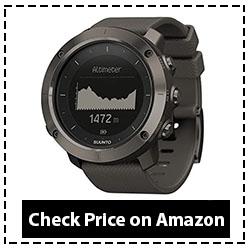 SUUNTO Traverse looks very clean. It has a smooth surface and the screws on the case are neatly installed. You should buy this one if you're looking for a survival watch that you can wear to parties and other social gatherings.
This product is the best survival watch for exploring and camping in different places. Wearing this watch will allow you to track your progress and take note of significant landmarks to prevent yourself from getting lost. This is a must-have survival watch for hunters, mountain climbers, explorers, and bird watchers
Suunto Traverse is also useful for long-distance trips. It comes with a GPS function that allows you to upload routes for easier navigation. Also, you may opt to connect your smartphone to this product for viewing messages, answering or rejecting calls, and seeing push notifications.
Features:
Connects to smartphones
GPS function
Clean and neat design
A survival watch that goes well with casual attire
Pros
Survival watch and a semi-smart watch
Must-have watch for traveling to unfamiliar locations
It prevents the user from getting lost when hiking, camping, or birdwatching in places with dense forests
Cons
This would have been a complete package if it came with an analog compass function
Not water-resistant on useless survival watch for water adventures
The strap is made out of rubber and is uncomfortable when wet with sweat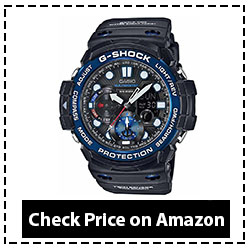 Casio G-Shock Gulfmaster series specialize in maritime use. Models under this series are not mere survival watches with a compass. They're also engineered to withstand the corrosive properties of seawater and the dirtying particles of freshwater. A model that you might love from the G-Shock Gulfmaster series is the GN-1000B-1A.
The Gulfmaster GN-1000B-1A features white, marine blue, and black color tones. The labels of the bezel use a bright white color for visibility. The hands and dials use the same. The bezel's marine blue finish further enhances the visibility of its labels. Furthermore, it's made out of stainless steel so it shines a bit.
The black color tone of the strap, lugs, surface, case, and crown makes the marine blue color of the bezel stand out. Manufacturers made these parts out of resin, so they're light and sturdy. Overall, G-Shock Gulfmaster GN-1000B-1A gives the vibe of the seas.
Let's talk about the functions of this survival watch. Basically, this product is an analog and digital watch at the same time. Therefore, we recommend this product for dyslexic persons. The digital watch displays the time and date. We find this quite remarkable.
Other functions include an altimeter, a tide graph, moon data, a compass, etc. The tide graph is useful for determining the coming of high and low tides. The moon data function allows Gulfmaster GN-1000B-1A to serve as a moon phase watch.
Sunlight doesn't power this watch and it runs on batteries instead. We find this a bit disappointing. However, this is just a minor issue because the batteries last longer.
Features:
Pros
It gives the vibe of the sea
Survival watch with functions for maritime use
Blue, white, and black color tones
Analog watch and digital watch
Accurate survival watch with a compass
Cons
The altimeter function isn't very useful because this isn't an ideal watch for mountain trailing or hiking
Functions might be too overwhelming for those new to survival watches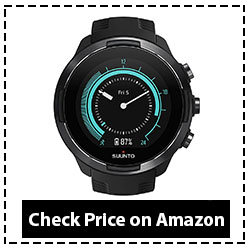 Suunto watches are very popular. As soon as a model is released, people get their hands on it. A good example of this is Suunto 9. Let's take a look and discover why people are racing to own this.
Suunto 9 is a digital analog watch with a uniform black color. The buttons, strap, lug, case, and bezel are all black. This watch has a sporty yet formal look because of its all-black finish. This sporty and formal appearance makes Suunto 9 go with sportswear, casual wear, and formal attire. Simply, put this is a survival watch for everyday and recreational use.
The software of this product features an analog watch with color motifs of white and blue. In general, this follows a classic neon theme that looks very clean.
The general functions of Suunto 9 include an altimeter and weather indicator. The advanced functions make this product ideal for any sporting activity. It has over 80 preprogrammed modes for sports such as swimming, cycling, jogging, etc. Apart from this, there are also functions that are suitable for exercising. Suunto 9 has a heart rate sensor, distance and speed measurement, and interval setup.
Suunto 9 also comes with a GPS function. When used with the Suunto app, it's possible for you to use this watch to save routes and locate activity heatmaps of popular locations all over the globe.
Lastly, Suunto 9 is rechargeable. What we love about this is that the batteries don't die quickly and the charging duration is very short.
Features:
Pros
Neon classic digital analog watch
Long battery life
Complete with functions for sporting
Highly advanced digital analog watch
Goes well with different attires
Electronic watch that's waterproof at 100 meters
Cons
It would have been easier to access the various functions of touch navigation is used instead of buttons
Other features need to be paired with other Suunto products to work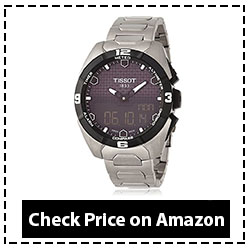 Tissot Touch Expert has a straightforward design. It doesn't have a lot of embossments or engraving. It uses a silver color tone for the strap, lug, and case, The bezel is black. It's very noticeable because the silver finish provides a perfect contrast.
This product is an analog watch and a digital watch at the same time. The digital display is placed on the bottom portion of the watch dial. Turning the bezel allows the user to access the chronograph, altimeter, alarm, compass, and timer features. Compared to the previous products, this one is very simple to use. Therefore, this is the best survival watch to buy for the elderly.
Pros
Simple to use
Made out of durable titanium material
Glossy silver finish
Cons
Very basic functions
Its design might be plain for consumers in younger age groups
Not water-resistant
Not shock resistant
Conclusion
Which of these products should you choose? Honestly, the decision is up to you. Our job here is to give you a comprehensive and unbiased review of the best survival watches. Of course, if you can't make up your mind then try following these tips:
Price
Functions or features
Design or look
The simplicity of usage
You may also need the other survival gear, click it to read more and find more about what you want! Remember, never buy a counterfeit watch, especially a fake Rolex on the market. Because it not only wastes your money but also lets you down.