With the increasing development of LED bulb and advanced battery power technology, the flashlight market turns to the LED flashlights which are smaller, lighter, and more powerful. If you are interested in an LED flashlight and wanna buy one, there are some important things you need to know. Because you might get lost in the market of flashlights since there are various products from different brands. But don't worry. Just read this beginner's guide to LED flashlights before you go ahead. It will guide you to find the best LED flashlight.
Basic Structure of a LED Flashlight
Unlike the old flashlight that is big, bulky, and heavy, the LED flashlight usually has a compact structure. Take the tactical flashlight, for example, it usually consists of several parts including a bezel, convex lens/reflector, cooling fins, zoom O ring, Tail O ring, and switch (side or tail). Most of them will equip with a pocket clip or lanyard for easy carrying.
Understanding ANSI FL1 Standard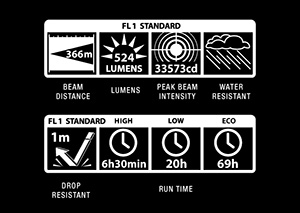 A LED flashlight contains a lot of parameters which is one of the key factors to judge whether it's good for you. These parameters usually follow the ANSI FL1 standard. ANSI FL1 is a well-known flashlight standard released by American National Standard Institute that is the most commonly used standard in the industry.
Light Output (Lumens)
For LED light, we use lumens as the unit of measurement for light output. Light output measures the amount of luminous flux coming out through the integrated sphere of the flashlight and is related to the LED's efficiency and how much power it uses.
Run Times (Hours)
Run time is defined as the amount of time elapsed from the initial switching of the flashlight until the brightness decreases to 10% of the lumen rating in continuous operation. In a simple word, it defines the amount of time after which the users will generally change the batteries.
Beam Distance (Meter)
Beam distance is the measurement of the distance where the light intensity of the beam reaches 0.25 lux. Basically 0.25 lux is the approximate the equivalent of the amount of light from the full moon on a clear night in an open field.
Peak Beam Intensity (Candela)
Peak beam intensity measures the brightest part of the beam which is known as candela. It is static in relation to the beam distance. Peak beam intensity represents brightness as perceived by the human eye and is related to how the beam is focused by the optical system.
Impact Resistance (Meter)
Impact resistance is tested with drops onto a solid surface at the specified height with all intended accessories, including batteries, installed. It is a parameter to verify the damage resistance of a flashlight when it dropped.
Water Resistance (IPX Rating)
Water Resistance is stated using the IP rating system, and three ratings are used.
1. IPX4 – Water-resistant, or water splashed from all directions
2. IPX7 – Water-proof, or temporary submersion at 1 meter for 30 minutes
3. IPX8 – Submersible, or continuous submersion at some specified depth for 4 hours
Tips: Most tactical flashlights in the market rate at IPX8 water-resistant.
LED Flashlight Buying Guide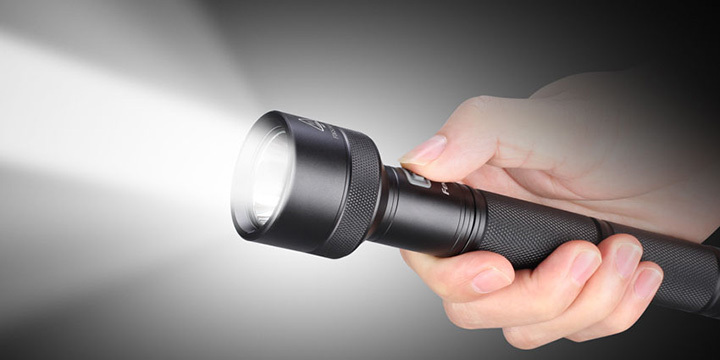 There is a lot of choices in the market and definitively all of them are not good in quality. If you are completely a new user and going to buy a new LED flashlight for your purposes, you should carefully read the following guides before you buy them.
Your Purpose
Before you enter the LED flashlight market, you first need to make clear your purpose of using a LED flashlight: need professional-grade tools for your jobs, a portable flashlight for hobbies of outdoor activities, or just an EDC flashlight for daily use. If you're still not sure, please always choose the professional-grade flashlight over a cheap one which may fail you easily.
Flashlight Design
First, we should choose the right size and weight of the flashlights as they determine the capacity and portability of the lights. In general, the common LED flashlights can be divided into several kinds as shown below:
Tactical size: Tactical flashlights are generally designed in 4 to 6 inches average size. They are small to carry and convenient to use.
Mid sizes: The available mid sizes of the flashlights vary from 6 to 10 inches. They have also the portable features. The use of both the head and tail switches is another fascinating feature of these lights.
Regular sizes: These ones are more than 10 inches and a holster is along with them for the ease of carrying. They also offer more light intensity and greater capacity.
Mini (Keychain) Sizes: Some modern EDC flashlight is designed in a mini and stylish keychain size, and also can be used as a necklace.
Another factor we should be careful of is the building material of the flashlights as the durability of the lights depends upon the quality and components of the building materials of the flashlight's body. Aluminum is one of the most popular options while constructing the body of the flashlights. It's lightweight and well conductivity of electricity and heat dissipation. In addition, other materials, such as stainless steel, titanium, zinc, and brass are also common to find in the market.
About body design, most LED flashlights are designed in cylindrical bodies. But some of them have the anti-roll body design for preventing the flashlights from the rolling around. Moreover, some LED flashlights are available for various color options.
What Else?
We should also consider the position of the switch. Generally, it might be on the side of the light or in the backside on the rear tail cap. In addition to switching, the design of the bezel is also important to look for. You can choose a simple flat design or crenellations.
Batteries & Chargers
Before talking about the batteries and chargers for LED flashlights, you should determine whether to buy a rechargeable flashlight or the one using removable batteries. Nowadays, most of the rechargeable flashlights are available to use with the removable batteries and the rechargeable ones with built-in features. If you are not sure which one is better, this combined rechargeable flashlight is perfect for you.
Run time depends to a large extent on the used power supply, the batteries. We know batteries by their conventional names — AAA, AA, D, and C cell. But actually, there is a range of other types you should know, including CR2, CR123a, and 18650.
Take A Look At This List Now
AA or AAA: These most commonly used in general purposes. They might be the cheapest option in batteries.
C or D: These larger ones are suitable for the heavier uses. But not a smart choice for the portable flashlight. Thus, their popularity is going down day by day.
123A: More preferable choices as they are small in sizes and also more capable than the other alkaline batteries.
Li-ion batteries: These rechargeable batteries are considered as the most reliable and smartest choices at the present time. They are more durable than other options and also have impressive performances. The average lifetime of these batteries is more than 1000 cycles.
Other options: Apart from these popular choices, there are many other options available as the power sources of the modern flashlights. Examples of such ones are disposable lithium batteries (CR123A, CR2), rechargeable batteries (RCR123A, 18500, 18650), integrated rechargeable batteries, Nickel Metal Hydride cells (NiMH), Nickel Cadmium cells (NiCd), etc.
Alternative power sources options: Sometimes alternate power sources might be helpful as the backup batteries, especially when the rechargeable batteries get their charge ended. Alkaline C-cell batteries or the other Lithium batteries might be good options for this purpose.
For rechargeable flashlight, you can use a USB to Mini USB cord to connect your laptop to your phone to charge. Besides, a battery charger is also an ideal choice especially you need to charge more than one battery at one time.
Flashlight Mode
The modern flashlights are small but powerful. They are flexible with several mode operations. In general, include:
Single output: switch on / off, light on / off.
Multi-level brightness mode: Different levels of brightness for different environments, such as low, mid, high, etc.
Strobe mode: Suitable for the quick flashing.
SOS mode: Helpful for sending Morse code.
Beacon operation: Relatively slower flashing process.
Programmable operation: Different mode sequences. Easy to enable or disable.
The mode switching is usually operated by the switch. You can choose a flashlight with Twisty or Clicky switch, or the one combined both.
Candela Per Lumen Ratio (cd/lm)
From ANSI FL1, we know that both light output and peak beam intensity are useful for their intended purposes, but neither would make a good flashlight. Thus, we use candela per lumen (cd/lm) ratio to determine if a flashlight has a throw or flood beam.
If you need a flashlight for close work or activity, a flood flashlight will be great for you. If you want to see objects from far, a long throw flashlight will be helpful to light up distant objects.
Cost
Pricing is always the most important factor we need to consider while purchasing a flashlight. There are different ranges of cost for the different constructions, designs, features, and the availability of the flashlights. You can find flashlight on GearBest at the price range starts from $5 to $500. But the price completely depends upon the budget of you. Some very famous Chinese name brands for flashlights such as Fenix, Nitecore, Convoy, etc. offer very cost-effective LED flashlights. You should choose the specific model of any of these brands after considering all these particular specifications. For more about these brands, you can visit our related page: 10 Best LED Flashlights.