Don't wander into the outdoors without top-rated gear loaded up in your backpack. We always recommend you think about repurchasing items that have not been used for some time to make sure you will be prepared. that's why we share this article about the best survival gear.
Serious campers and hikers need to stay up to date on what items make any activity easier. Our list of the best survival gear of 2021 includes a few product reviews to help you find your own gear for your next outdoor adventure.
6 Best Survival Gear in 2021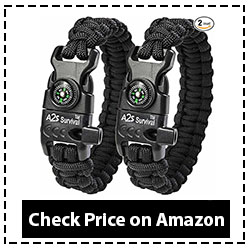 This unique bracelet has five different uses to keep you safe while outdoors. The compass tool can show you what direction you are in and can help you navigate through the woods. The fire starter will keep you warm if you end up lost in the cold, or if you need to start a fire to cook a meal on.
An emergency knife and fire scrapper are also two aspects of this tool that will come in handy when you are in trouble and need to escape. The emergency whistle operates as your way to communicate with others because it creates a loud noise for people to find you.
The overall design of this bracelet is lightweight and comfortable to make you feel as if you aren't wearing it, which is great for long adventures when you don't want to wear heavy items. You can bring this bracelet along for your hiking trips, fishing trips, camping trips, or hunting trips. At under $11, this bracelet is worth the purchase. Buy this item as your in-case-of-emergency tool for your whole family!
---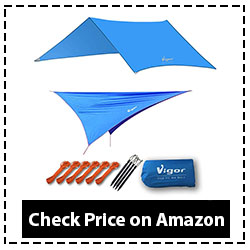 You never know when a random rainstorm will hit your campsite. To be prepared, it's important to bring along some type of tent to cover your belongings and yourself. Enter the Vigor Waterproof Tent Trap, your perfect form of shelter. This item makes our best survival gear list because it's compact, weighs under 2 pounds, and can easily fold up into your backpack. The tarp is durable and includes a strong nylon ribbon that ties off to trees or can be staked into the ground.
For example: Say you are sleeping in a hammock overnight and all of a sudden you hear loud booms of thunder and rain begins to trickle down. If you didn't have your waterproof rainfly trap, you would be soaked! This item will come in handy when you least expect it. Don't be without a tent trap like this one on your next camping adventure.
---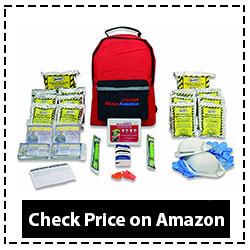 This kit not only includes a set of first-aid supplies to keep you alive for three days, but it also has food, water, and blankets. This kit is a great starter kit and makes our list of best survival gear because it has so many important items inside the backpack that it comes in. You can also easily replace the items that you use up during your many trips by stopping at stores to pick up more band-aids and glow sticks.
The emergency drinking water is something that sets this kit apart from the rest. For under $40, two people are able to use this kit which is also a positive note to add.
---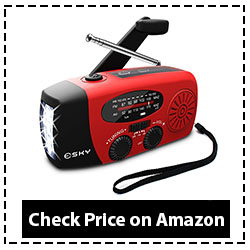 This hand crank device takes just one minute to provide you with at least 30 minutes of a flashlight or 20 minutes of radio power. The flashlight is even brighter with the new upgrade and the AM/FM radio function can give you quick weather reports. If you plan on staying overnight in the woods, a flashlight is a must-have item on our best survival gear recommendation list.
This specific model is also a power bank that can charge your cell phone. It can be recharged by using the sun's rays, by being plugged into a port, or by hand cranking. Not only is this item great for the outdoors, but it definitely can be used during rough weather, such as when a hurricane hits. Keeping this device in your home when hurricanes strike will ensure that you have a backup plan if your power goes out.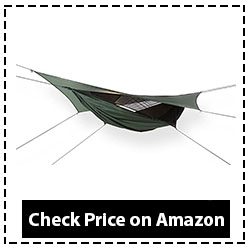 If you wish to forgo the tent and opt for a hammock to be your main shelter during your adventure, the Hennessy hammock is going to be a wonderful option.
For daytime campers, a hammock doesn't necessarily need to have insulation or the ability to close up entirely. However, if you are an expert camper who desires to sleep all night in a hammock swinging between the trees, you should consider purchasing a Hennessy camping hammock.
The Hennessy hammock is ranked as one of our best survival gear items because it is durable, stretchy, comfortable to sleep in, and has tons of storage. People online have shared their positive feedback after using this specific hammock, and we couldn't recommend it more. It is easy to set up and weighs one pound.
Take this hammock along your hiking trail across the country and see for yourself how well you will sleep in the woods using a Hennessy Hammock Expedition Zip.
---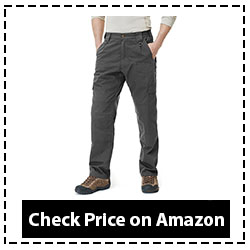 What you choose to wear during the extent of your camping or hiking trip is also important to think about. These tactical pants are made out of a fabric called Duratex. The fabric promises to keep dirt, oil, liquid, and other contaminants off.
The pants have a lot of velcro flap pockets to hold your items in. The soft material also makes these pants breathable and easy to move around in, which is something you want to look for in outdoor clothing. These pants also come in a variety of different colors for you to choose from. Wear these CQR tactical pants on any rugged terrain to conquer the toughest of woods.
---
What To Keep In Mind When Choosing Your Best Survival Gear?
Invest in the best products. You should carry around top-rated items.
Read product reviews BEFORE you hit the purchase button.
Maintain the items that you buy. Keep them safely stored in your home.
Update your items on a regular basis. Make sure your flashlight has batteries, for example.
Carefully pick out the gear items you will bring with you on your trip. Consider bringing lightweight items over super heavy-duty ones, to ensure that you can successfully carry everything for long periods of time.