Backpacking for beginners can seem stressful or intimidating. But don't let the fear of the unknown stop you from taking your first trip.
The truth is, backpacking is one of the best hobbies out there. It combines exercise, vacation, and entertainment into one neat package. Whether you love hiking or having a few beers by the campfire, backpacking really does offer everything you need for a vacation.
Make sure you know what you're doing before taking your first trip. As fun as the woods are, over 2,000 people get lost per year.
There are a number of reasons this happens, but it boils down to people not knowing what they're doing.
With that in mind, here's our guide to backpacking for beginners.
Backpacking For Beginners: What You'll Need
Before you go backpacking, you'll need to make sure you have the right supplies.
Of course, as the name implies, you will need a backpack. Chances are if you're searching for backpacking tips you don't need us to tell you that.
But your needs actually go way past that. You'll need to stay safe and protected from getting lost and the elements. It's easy to forget that as beautiful as nature is, there are no modern conveniences.
If you don't take it seriously, you can get hurt.
So, we've compiled a helpful list of the things you need for your backpacking trips. Feel free to get additional supplies, but see these as the bare minimum.
Map and Compass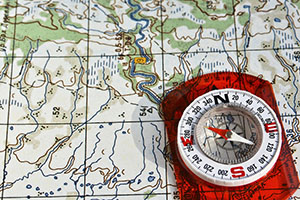 A map and a compass are two of the most important things to bring on your hike.
If you have an electronic compass, make sure you bring enough batteries to keep it running.
We recommend that you get a compass with an inclinometer so you can accurately measure the risks of your hike. Similarly, you should get a compass with a global needle to avoid complications caused by distance.
We really like the Bushnell Bear Grylls Edition.
It's high-tech enough to be incredibly versatile and fun to use, but also simple enough to recommend in backpacking for beginners guide.
Whatever compass you get, make sure you trust it. Compasses are designed to be able to tell your direction regardless of where you are: if you use one, you don't need to worry about human error.
People often get lost in the woods by thinking that they're smarter than their compass, and that's almost never the case.
Along with knowing where you're going, you'll need a map to avoid getting lost on the trail. You can likely find these online.
Make sure you print a physical copy of the map and laminate it for protection from water. Don't depend on your phone's battery, because there are no outlets in the wild.
First Aid Supplies
You may think you're being safe, but no backpacking for beginners guide would be complete without recognizing that accidents happen.
That's why if you're going backpacking, you need a first aid kit to keep yourself protected from injury.
Get a first aid kit that comes complete with the supplies you need to treat cuts, bruises, blisters, and bumps. We recommend this one from REI.
Regardless of whether or not you choose that specific model, a good first aid kit will have:
Sterilizing supplies such as peroxide.
Large and small gauze dressings, which you can put on bodily injuries.
Dressings for any eye injuries.
Plasters.
A splint.
Weather Protection
Make sure you protect yourself from the weather, hot and cold when you go on your backpacking trip.
Necessary weather protection supplies include sunglasses, hats, and sunscreen along with insulation such as a coat.
Along with this, you'll also need some things to protect you and your supplies from the rain. We recommend a waterproof backpack, an essential in any backpacking for beginners' guide, to make sure you don't spend the rest of your trip eating soggy Clif bars.
The risks of not being prepared for the weather are great. Skin cancer, hypothermia, and airborne illnesses can all be propagated through a lack of preparation. And because lower body temperature can weaken your immune system, even germs become more dangerous in the cold.
Food, Shelter, and Water
Something that should be obvious but is too often forgotten in backpacking for beginner's guides is the need for food, shelter, and water.
Make sure you have a canteen and some sort of a filter to have a supply of clean water. If you're bringing a large number of water bottles, make sure you ration them out throughout the trip to avoid going through your water too quickly.
With food, make sure you bring nonperishable food with a variety of nutritious values. Energy bars, beef jerky, and nuts should all be a staple of your trip. If you bring cooking supplies, add foods like pasta and beans to the mix.
If you're a coffee drinker, consider bringing a non-electric and portable coffee-making method like the Aeropress on your trip.
While coffee is obviously not quite as important as food or water, caffeine withdrawal can do some serious harm to your backpacking trip. It can slow you down or even result in you getting lost due to a weakened thought process.
Also, make sure you focus on the shelter. A tent, sleeping bag, and other supplies are all essentials to backpacking for beginners or experts.
Light
Hopefully, you'll be able to set up camp by the time it gets dark out. But there are times that won't be possible.
Bringing a flashlight or a lantern will make sure you can find your way to your campsite if you're out after dark.
As with an electronic campus, you need to make sure you have everything you need to keep your flashlight working. That means getting a waterproof flashlight and having enough batteries to power it through your trip.
As a rule of thumb, you should make sure you have the supplies to power your flashlight for more time than it will actually be turned on. It's never a good feeling to have "just enough," so you'll be thankful for the extra comfort.
Fire
Finally, you'll need to make sure you have the right supplies to go camping after dark.
While you can always do it the old fashioned way, having matches or a lighter will help you start a fire with ease.
Remember to put your fire out and dispose of all necessary supplies after starting a fire. Leave the wilderness as you left it. Forest fires are a serious problem, so do not take this step lightly.
Scheduling Your First Trip
After you've gathered the right supplies, the next step of backpacking for beginners is scheduling the trip.
You should never go on a backpacking trip alone. This is true for two reasons.
First, it's best not to be lonely on a multi-day trip. People are social, and while it is nice to get away from it all, getting away from all human contact can be a bad idea.
The next thing you'll need to do is pick out a trail. And doing this depends on your budget and where you want to go.
If you're American and looking to stay domestic, there are plenty of great backpacking trails in the United States.
Another thing to consider when planning is how much time you're willing to spend on your trip. Obviously doing the loop in California will take less time than backpacking across Europe.
In general, you can expect your trip to take between two and four days.
Finally, make sure you have some entertainment for the trail. There will be plenty of time to take in the sites, and if you're a bit of a homebody you may feel more comfortable loading up some music and podcasts to take on your trip with you.
Planning the Next One
After you've done your backpacking for beginners trip, your next step is finding a more advanced journey.
There are plenty of online forums you can go to for discussions about backpacking, hiking, and trekking.
Reddit offers forums for wilderness backpacking, regular backpacking, and advanced backpacking.
While the advanced backpacking subreddit is probably not the best place for somebody who's one trip out from reading "backpacking for beginners," the three forums can provide great places to discuss potential next trips and ways to enhance your experience.
You should also look at local daytime hiking groups to meet new hiking and trekking enthusiasts to go on trips with.
Having a community of hikers and backpackers for both discussions and excursions is a great way to bring your backpacking experience to the next level.
Conclusion
Whether it's backpacking for beginners or cooking for experts, we're interested in providing the best consumer guides on the market.
Whether you're looking for what to buy or where to go, we want to help you at every step of the way.
So, outdoors enthusiasts, check out our other guides on sports and outdoors supplies and adventures and get on the trail.