If you sprout enough facial hair to make up for men that are follically challenged then you know that finding the best beard brushes isn't easy. Just like the top of your head, a well-groomed beard can be the difference between looking epic and looking like you've been dragged through hades, backward. Styled well your face will be framed, you'll look heroic and quickly find you're the envy of every man who wished puberty had been as great as your own. That's why it's important to keep that growth in line with a great beard brush, even if it is just to remove last night's meal.
As well as keeping your beard groomed, brushing it will encourage new growth by stimulating the hair follicles while moving oil across it for a natural shine. A healthier beard is a better-looking beard. Not only do the best beard brushes manage your hair they can help moisturize your skin as well when used with proper beard oils and balms. Trust us your wife, girlfriend or partner will thank you. If you've taken the time to grow out a beard, then you've got the time to keep it in check.
Finding The Best Beard Brush
With an increasing trend to growing the thickest beards, it won't be long before we take on Chewbacca's title. Until then we're here to keep you clear of low-end, cheap beard brushes that are flooding the market to make up for the demand. Our list focuses on a balance of price, materials, and how they work with oils and balms as well as covering all ranges of budgets. Just remember that even with the best quality brush, whether it's the highest quality boars hair or man-made nylon, that you don't brush your beard more than a few times a day. Over-brushing will stress the root of the follicle, which can cause breakage and even hair loss. Who wants a patchy beard? So read on and find the best beard brushes on the market.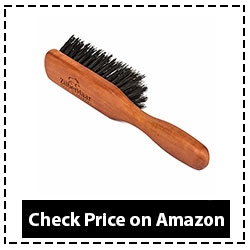 One of the best beard brushes on the market, the ZilberHaar Beard Brush is made from genuine boars hair. Why is this good? Well, boars hair has a magical ability to evenly spread out beard oil or balms along the entire hair follicle for maximum performance. The unevenly cut natural bristles are also great at exfoliating your skin to reduce any itchiness and ingrown hairs. The handle is carved from German, Black Forest pear-wood and at six inches long will fit perfectly in any messenger bag or Dopp kit. Designed for short and long beards the ZilberHaar Beard Brush will keep your beard softer, your skin healthier, and comes with a lifetime guarantee.
Pros
Long-lasting beard brush crafted from boar hair.
Cons
Not many, other than a highish price tag for such a small brush.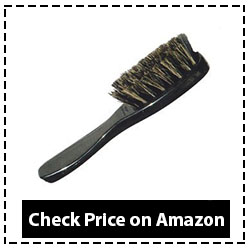 Not exactly a true "beard brush" (did the name give it away) but then what is a beard without a Moustache? Known for being one of the best on the market this will easily complement any larger beard brush to help style and groom your upper lip hair. Made from handpicked bristles each brush is unique and will easily distribute oil and balms while exfoliating your skin. It can work with any length of hair but it works best with more established growth because of its longer stiffer bristles. If you like to keep your hair trimmed then it will even work as an all-over brush and with a long handle, you won't find it hard to control.

Pros
Great for getting under your nostrils.
Cons
It might be too small for some.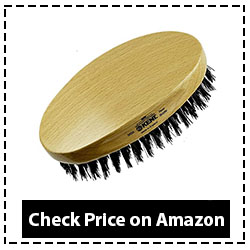 Fixed to a cherrywood oval backing, the Kent Military Brush has a British stiff upper lip written all over it. A true classic the dark black bristles contrast against the pale wood to set this apart from the pack. Smaller than most military brushes, the MC4 will sit snuggly in your shaving kit or travel bag making it perfect for traveling light. However, because it is smaller it may not be the right brush for men with larger hands when attempting to detangle unwieldy hair. With softer bristles, it's great for sensitive skin but not so great on thicker beards.

Pros
Filled with the finest quality natural bristles.
Cons
Larger hands might suffer from a smaller grip.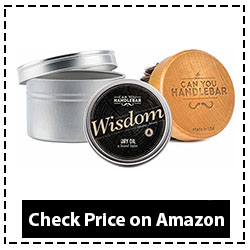 With the recent uptake in the use of horsehair this compact brush is ideal for quick retouch midday or when you're on the move. Smaller than most of the beard brushes on our list this isn't for thick, long beards. Most horsehair bristle brushes are great at distributing oils deep into the beard follicles, but because this is soft horsehair it's only really suited to short well-groomed beards. If you love to keep your beard long then pick another on our list. With its travel tin, you can keep the brush safe while you're on the move, and with its diminutive size, you can keep it tucked away for those occasional touchups throughout the day.
Pros
Small, great for travel and it comes with its own case.
Cons
Not that great on longer, thicker beards.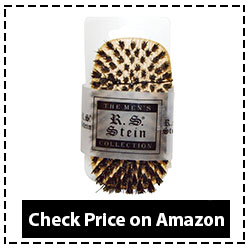 Made with 100% boar bristles and designed with a no-nonsense attitude, the R.S. Stein line of beard brushes are long-lasting grooming accessories that have earned the right to feature on our list. The Military Style Beard Brush distributes beard oils easily and thoroughly covering the whole beard leaving little or no dry spots. Not only is this great for your hair but it's good for your skin as well, penetrating deep into the beard follicles to keep you completely moisturized. With a large handle and stiff bristles, this brush will tame the wildest of beards.
Pros
Distributes oils and balms with ease.
Cons
Not great without oils or balms.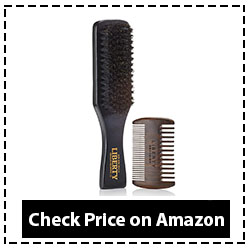 The bristle quality and construction of this brush are second to none. Using 100% boars hair bristles throughout, the Liberty Premium Grooming Co. Beard Brush really is "premium", it comes with a price tag to match too. It performs on the thickest of beards tackling every beard follicle down to the skin and distributing the oil evenly – even on short beards, rather than smearing it across your face. Larger than most it packs a lot of boars' hair into one brush so it may feel too stiff for some, but remember this will help train your beard to grow in the right direction, which is a good thing. It even comes with a complimentary comb which helps for quick touchups.
Pros
It looks great and boasts high-quality boar hair bristles.
Cons
You might balk at the price tag.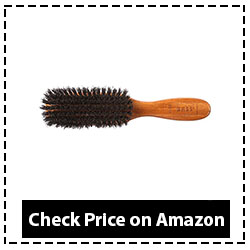 With its classic paddle beard brush shape, the Bass Brush is more suited to men who have established beards. Billed as 100% boars hair the brush comes with a mixture of nylon bristles added to help bulk out the head. The hand-finished handle is made from hardwood such as Maple, Oak and bamboo, and because the bristles are so soft it can also be used on regular hair as well. There are better alternatives out there but at this price range and for the size of the brush it's a great buy into the world of beard brushes.
Pros
Affordable and great at untangling thick beards.
Cons
Not as good at distributing oils or balms as other brushes.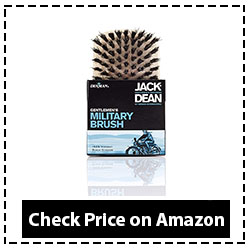 It's amazing how many beard brushes there are to choose from and if you're new to the party then it can be damn confusing. That's why this is a great entry-level beard brush that has a price tag that's easy to swallow. As you grow into your beard Jack Dean's Military Style Brush will keep your fuzz healthy and groomed working in harmony with oils and balms. Like most other brushes at this price range, it uses a mixture of nylon and boar bristles to unlock tangles and smooth your skin. If you plan on growing out your hair "Opie" style then you might want to upgrade to something like the Liberty Beard Brush further up this list.
Pros
Perfect for short to medium beard lengths.
Cons
Big beard? Sorry, but look elsewhere on this list.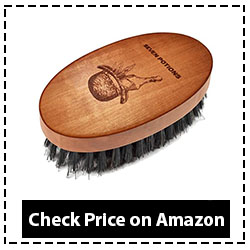 The Beard Brush is made from eco-friendly boar hair that helps redistribute the natural sebaceous oils secreted by your skin to the rest of your hair, boosting shine. Perfect for shorter beards with a length of 1-3-inches the boar bristles are soft enough to feel great against your skin but stiff enough to untangle the nighttime of wear. It's also designed to stimulate growth and will volumize and flatten your hair depending on the style you're looking for on any particular day. Even though it has an ergonomic handle you can just as easily use the head for grip and greater control.
Pros
Ergonomic handle, great for handling and grip.
Cons
Bristles aren't as long as other brushes.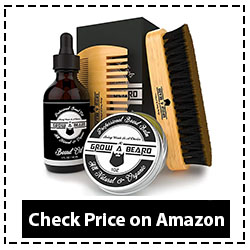 Boasting 100% boar hair bristles set in a beechwood and bamboo backing, The Beard Brush is the perfect brush for any stylish, hipster man. While the GROW ALPHA BEARD does indeed use boar hair bristles there are plastic fibers added to the production of the brush. However, if you're on a budget then this still makes for a great entry-level grooming accessory. A nice touch is the muslin style cotton gift bag that can be used on your travels or to keep the GAB Beard Brush safe while not in use. Designed to be used with oils, pomades, and balms it can groom both wet or dry beards to leave a healthy finish to your hair and skin.
Pros
An all-rounder, great for any bearded man on a budget.
Cons
The lack of a handle might put some off.