Getting the right sleeping bag doesn't mean you're not serious about roughing it. You can't really enjoy the great outdoors if you're too tired from shivering all night. The same goes if you're exhausted because you've lugged around a too heavy pack all day. A good sleeping bag doesn't just keep you warm, safe, and comfortable. It also helps you get the rest you need and saves you space in your pack. Lucky for you, there are a lot of options to choose from when it comes to the best sleeping bags. Check out our top 10 picks.
10 Best Sleeping Bags in 2021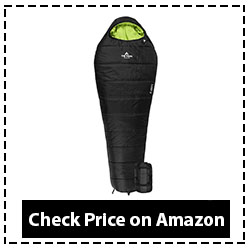 If your top considerations for choosing a sleeping bag are comfort and warmth, you'll love this sleeping bag. It stays warm with PolarLite microfiber insulation and best of all, it won't add extra weight to your pack.
Other features include:
Body-mapping technology to keep you warm.
Adjustable 3-piece hood contours.
Anti-snag zipper.
Extra shoulder and legroom.
Lightweight at only 3.5 lbs.
---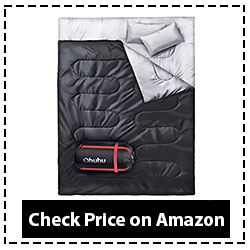 Still, packing an extra blanket when you're camping? With this sleeping bag, you can leave the lumpy blankies at home so you can save space in your pack.
Shaped like an envelope, the Ohuhu sleeping bag is a lightweight option that can keep you warm, especially on cool outdoor nights. If you're camping with a partner, this bag comes in both right-hand and left-hand zipper models that can be zipped together.
Other features include:
Easy roll-up.
Can be compressed up to 8.9″ x 5.9″.
Weight: Less than 2 lbs.
Water-resistant nylon material with 100% polyester fill.
Temperature Rating: 48 to 59 degrees F.
---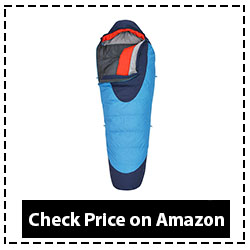 When it comes to the best sleeping bags, some like it extra hot. If that sounds like you, then you should get this 3-season bag. Rain, snow, or shine, this sleeping bag will keep you warm no matter what.
Other features include:
600-fill water-repellant DriDownTM.
Thermal-comfort hood.
Top draft collar.
Material: 50D polyester taffeta.
Natural-fit foot box.
Anti-snag zipper draft tube.
Stuff sack.
Temperature Rating: 20°F.
Weight: Less than 3 lbs.
---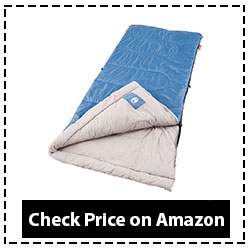 Zippers that snag are the worst. The great thing about this sleeping bag is it has a patented zipper system that doesn't just lock in heat to keep you warm. It never snags which is one less thing you have to worry about when you're out camping.
Other features include:
Thermo lock system.
Roll Control loop fasteners and a Quick Cord system.
Machine-washable.
Temperature Rating: 40°F to 60°F.
Material: Polyester cover + soft tricot fiber blend liner.
ThermoTech insulation.
Comfort cuff.
5-year warranty.
---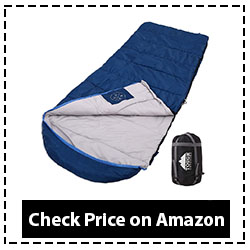 This sleeping bag isn't so much for the "Camping is LIFE!!!" folks but more for the weekend adventurer who just wants a budget sleeping bag. The nice thing though, about this bag is even if it's a budget option, it still delivers the goods.
As the name implies, it's an all-season bag. You can use it comfortably for camping, hiking, backpacking, and other outdoor activities with its temperature range of 32°F to 60°F.
Other features include:
Waterproof shell.
Machine-washable.
Compression sack.
Inner storage pocket.
Weight: Less than 3 lbs.
Large size. The maximum height it can accommodate is 6'6″.
Neck and zipper baffles.
1-year guarantee.
---
This envelope-shaped sleeping bag is easy to compress and only weighs 2.97 lbs. It can also be used as a quilt and will keep you cozy as it has a wide temperature range of 43°F to 72°F.
Other features include:
Materials Ripstop polyester.
Polyester fiberfill.
290D pongee lining.
Dual-slider locking zipper.
Adjustable drawstring hood.
Small interior pocket.
---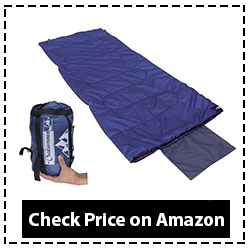 This is another budget option that's perfect for the casual adventurer. If you buy two, you can zip them together and turn them into a double bag.
Other features include:
Attached pillowcase that fits most camping pillows.
Large inner pocket for valuables.
Extra-soft liner.
Hydrophobic shell.
Weight: 1.6 lbs.
Temperature Rating: 50°F to 70°F.
Space-saving. It fits most backpacks even without compression.
Side and bottom zippers for warm-weather camping.
Sleeping pad straps.
---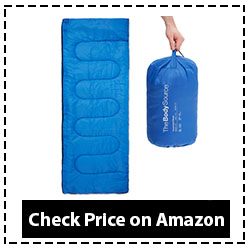 Last but not least is this ultralight sleeping bag with 200GSM hollow fiber lining. Not only is it perfect for the outdoors, but you can also use it for sleepovers and when you just feel like camping indoors.
Other features include:
Material: 170T polyester outer shell.
Temperature Rating: 25°F to 60°F.
Water-resistant carry bag.
---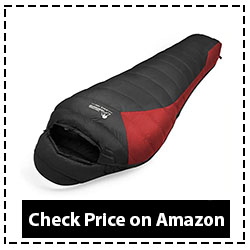 True to its name, this sleeping bag is ultralight (less than 2 lbs). It is also water-resistant and made of ripstop fabric (380T nylon), which means you don't have to worry about it ripping or tearing.
Other features include:
Easy to use the double-sided zipper.
500 fill power duck down lining.
A carrying bag with adjustable straps.
It can be compressed up to 35x18x18 cm.
Temperature Rating: The ideal comfort range is 41°F to 50°F.
90-day warranty.
---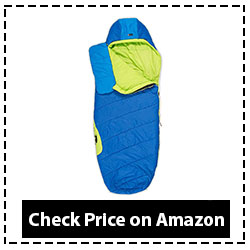 One of the best sleeping bags in the market, this spoon-shaped bag has more than enough room for your elbows and knees, which makes it ideal for those who like to sleep on their side.
We also like it for its temperature control trademarked features (Stratofiber insulation and Blanket Fold). It will keep you comfy like you're sleeping in your own bed.
Other features include:
Pillow pocket.
A drawstring stuff sack and cotton storage bag.
Adjustable Contoured hood.
Watch pocket with zipper.
Material: Ripstop, DWR nylon.
---
Which Sleeping Bag is the Best?
Choosing the best sleeping bag will depend on your budget and preferences. What others consider awesome may not be right for your specific needs. Consider this list as a starting point when shopping for the best sleeping bags for camping.
No matter what type of adventure you're looking to have, we want to give you the information you need to make the most out of it. Make sure you're using the right products by reading our reviews!