When you are in the field and are traveling fast, you don't want to take the time to set up a campsite and then break it down when it's time to move on. A tent and all that accosted gear that most campers take with them can weigh a person down, and the gear itself may not be able the constant wear & tear.
Why deal with all that hassle and tire yourself out as well. Why not instead, use a hammock in place of your large bulky tent?
That is what we want to talk about today.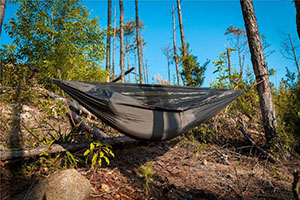 There are many benefits to this approach, and you will learn many of them today.
Tactical responders today carry hammocks like the OneTigris instead of their tents as they get into the field faster and can move much more quickly and cover a lot of ground faster.
When you are looking for someone lost in the woods and High-Country a hammock makes perfect sense.
So, why not simplify your usual camping outings as well.
That's what OneTigris offers the TAC-Responders as well as the out for a weaken enjoyment as well.
OneTigris Water-resistant Hammock & Free Mosquito Net
Benefits Of A OneTigris Hammock
Comfort
The first feature that most people cite is that they sleep better in a hammock better than their beds at home. In fact, many who sleep in a hammock for the first time often toss out their bed and box spring and replacing them with a hammock stand and a hammock?
Speed Of Setup
A hammock with its mounting harness can be ready for sleeping in under 5 minutes. The instant tents/pop-ups are faster. However, regular tents can take 10 minutes or more.
No More Stuffy Enclosed Spaces
Tents are notorious for making you feel claustrophobic when you need to seal the tent if a rainstorm comes in suddenly. A hammock will keep you well ventilated, and you can stay dry even in the monsoon Sean in Thailand for months by just erecting a rain tarp over your hammock.
You Wouldn't Wake Up In A Lake Along With All You Gear Floating Inside Your Tent
In a hammock, you are off the ground, and your gear is snug and dry with you above the rain-soaked earth.
No More Punctured Tent Floors Or Bad Backs
A hammock does not rest on sharp rocks that stick you in the back. Your tent's flooring can be pierced, and stone under a sleeping bag is one of the most uncomfortable things on earth leaving you with a sore back in the morning.
Features
You can then hang your hammock almost anywhere, and the Teflon coated Nylon material wouldn't tear or rip under up to 440 pounds of weight. That means you can double up with a friend and share comfort and a comfortable sleep together.
However, besides being water-resistant there is an added feature. If you've set up near a pond, wetland, and near a marsh. Mosquitoes can make your life miserable. The OneTigris Hammock is reversible. When you flip it over you have and ultra-fine mesh, Mosquito Net that stops biting bugs cold. Once zippered in your hammock you are invulnerable to mosquito's attacks.
So, you have a bug free bag with YKK zippers that let you zip in or out from either side. Add a weather-tarp and hammock liner you have a portable shelter that you can use almost all year round. When you are rested and ready to move on you only pack everything into its carry sack and it only weighs 37 ounces.
If you are using a hammock snake, you can unfurl your hammock in a flash and pack it ready for travel almost as fast, so, your see why the OneTigris Hammock is one of the most versatile portable shelters around.
Pros
Super comfortable.​
I tried it out in the backyard first and It was so comfortable I Left it up and bought a send one to go camping with.
Add a set Whoopie Slings and a pair of tree shackles, and you are ready to rock in the woods or along the Appalachian Trail or the Great Smokies.​
It was a buggy night at the campgrounds. I could hear the cussing and the slapping. And I woke up the next morning and not one no-see-um got through the net, and I was bite-free.​
I bought a Portable Hammock Stand. So, now when I hit the campgrounds with my hammock I sleep like a million and not bite yet in two years while sleeping in my hammock.​
My outdoor camping/survival class was all issued one for their graduating exercise in solo survival, and uniformly they all raved about how comfortable they slept and bug-free as well.​
Cons
Dump the cords that come with the hammock and get a decent set of tree straps. You'll thank me and Smokey The Bear will thank you for not harming the trees in his forests.
Make sure to follow the instructions when setting up your hammock or else.
Final Thoughts
It does not matter if you are a camper or a person that has to take to the wild as part of your job. A hammock like the one from OneTigris is the perfect portable camping shelter. Once you have slept outdoors in a OneTigris hammock under the starry sky, you will never go back to sleeping on the cold ground again.
Designed to be lightweight it fits into a Go-Bag or BOB (Bob Out Bag) with ease. You can even carry it in a daypack in case you just want to take some time off and get away from it all. When it is all said and done, camping out will give you the best sleep ever, and OneTigris ensures that this promise comes true.