Fed up with buying supermarket orange juice that just tastes like it's below-average quality? Miss the taste of fresh-squeezed juice and thinking about getting an orange juicer? Sure, you could squeeze your orange juice by hand and save money, but that ritual can quickly become tiresome when you have to do it daily. So you've decided to spring for a juicer, and you want the best orange juicer out there.
Then you take a look at the market out there for citrus juicers, and it leaves you dumbfounded. The many choices are just mind-boggling! How are you ever going to decide on the best orange juice machine?
Don't panic. We've got you covered. We have gathered a list of the best orange juicers available and reviewed each of them for you. Below is a list of the best juicers and what each of them has to offer.
10 Best Orange Juicer Reviews in 2023
1. Breville 800CPXL Stainless-Steel Motorized Citrus Press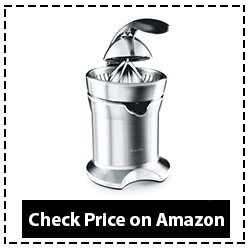 One of the best citrus juicers is a mighty citrus press made of top-grade brushed stainless steel. The Breville 800CPXL Citrus Press is made industrial-style and wonderfully designed. It has great functionality as well. It comes with a die-cast stainless steel juicing cone made to fit all sizes of citrus fruits. Furthermore, it provides the ultimate in juice extraction.
Pros
Nice stainless steel design.
Extremely quick and simple to use. Good for beginners.
An exceptionally quiet motor allows you to make juice whenever you want without worrying that you are creating a distraction for anyone else.
For great convenience, all detachable parts can be safely put into a dishwasher.
Cons
Certain parts are made of poor-quality plastic and will break easily.
Uncertain durability regardless of the high cost.
This smart-looking, electric machine is one of the best citrus juicers you can get. With a compact design that allows it to fit easily in any kitchen. It makes a fast and easy cup of orange juice for you to begin your day, frequently only taking a minute. The unit usually comes with two stainless steel juice filters, one fine and one coarse, which allows you to determine exactly how much pulp you want in your juice. You will thoroughly enjoy using this juicer.
---
2. Hamilton Beach 932 Commercial Citrus Juicer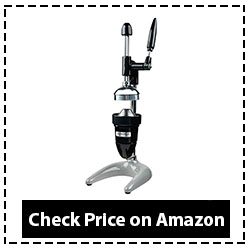 The Hamilton Beach Commercial Citrus Juicer has set the standard for citrus juicers everywhere because of its powerful machine, reliable performance, and classic appearance. The metal parts and enamel finish are made to withstand damage caused by repeated exposure to citrus acid. There's great arm strength to make juicing simple. There are also sure grip feet that keep the juicer in place so that it won't tip over on you.
Pros
Does an excellent job of extracting the maximum juice from the fruit, so there is almost no waste.
Super easy to clean, so it takes very little time.
Cons
This happens to be a manual juicer, meaning no plug or batteries, so there's a little work required.
At 20″ tall this juicer stands tall indeed. You need to measure your countertops before purchasing to ensure that it will fit.
Most people who purchase this juicer will say they honestly enjoy using it because it is easy to implement and fast to clean up. If you put your mind to it, you can squeeze right through an entire bag of oranges in no time at all. However there are some who have stated that this particular juicer is more suited for handling small fruit, such as lemons, limes, and small oranges. The question is about arm strength when it comes to handling fruits such as grapefruit. On the whole, however, it has great efficiency and is well suited for the job.
---
3. New Star Foodservice 46878 Commercial Citrus Juicer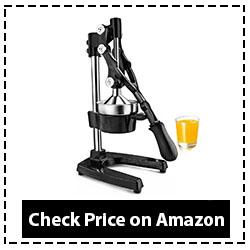 Gleaming in black and stainless steel the New Star Foodservice juicer is definitely made in professional quality style. The powerful ergonomic rubber handle is ideal for squeezing all the juice you can from any type of citrus fruit. There's a heavy base that has feet with suction to provide more stability, and the cone and funnel parts are detachable and can be put in the dishwasher without breaking.
Pros
Extreme stability.
The ergonomic handle enables you to hold and juice without a problem.
Let you add more pressure while squeezing because it has a heavy presser.
The industrial-grade juicer that makes lots of juice.
Cons
The cone is small so the juicer cannot handle fruits such as grapefruit.
If you want a juicer that can tolerate heavy use, then this juicer should serve you well. This is a long-lasting, sturdy product that is highly efficient and professional grade. There is no doubt this is one of the best orange juice machines you can buy.
---
4. Focus Foodservice 97336 Jupiter Large Commercial Juice Press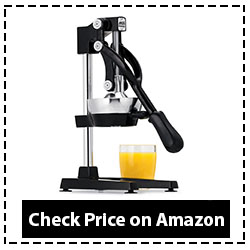 Made from cast iron with 18/8 stainless steel, the Focus Foodservice JupiterJuice Press is practically indestructible. The enamel finish keeps citrus acids from damaging it, and the wide base with suction feet prevents tipping over. There are removable strainer cones and funnel cups that make cleaning easy. You'll get lots of power from this juicer and quickly be able to come up with a full glass of orange juice to start your morning. You can also use this manual juicer to make the perfect juice cocktail because it handles oranges, lemons, limes, and even grapefruits without difficulty.
Pros
Powerful squeezing force.
Swift cleanup. Not more than a few minutes.
Gets the most juice it can from citrus fruits.
Cons
The Strainer cone is extremely sharp and can cut you.
Not as well balanced as it should be. If you press too hard it tilts forward.
An excellent manual juicer with an ergonomic handle that makes it easy to hold onto. Gives reliable performance and extracts juices from oranges, limes, and grapefruits to name a few with ease. Has a removable strainer and funnel catch that are ideal for disposing of waste, which is minimal at worst. Fantastic finish that keeps the often harsh citrus acids from damaging it. With suctioned feet that keep it from sliding along the countertop when you are using it.
---
5. Cuisinart CCJ-500 Pulp Control Citrus Juicer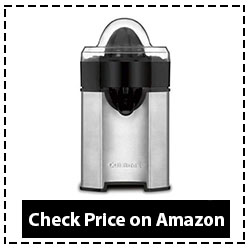 The Cuisinart CCJ-500 Pulp Control Citrus Juicer is a sleek and modern stainless steel and black marvel. Designed for efficiency, it has an adjustable reamer that comes with 3 pulp control settings — low, medium, and high. The final spin feature enables you to extract every last drop of juice from the remaining pulp. Furthermore, it has easy-to-clean parts that are fine for putting in the dishwasher and a handy area for cord storage.
Pros
Pulp-control settings.
Fantastic final-spin feature.
Simple to use and clean.
Superb power.
This item deserves its place at the top of the list of best-selling juicers. It has a cone that can handle all fruit sizes from lemons to grapefruits. It enables you to make your juice just the way you like it with various levels of pulp. And it's powerful enough to get the last drop of juice out of any fruit you put in it. It has a sleek appearance too.
---
6. Eurolux Electric Orange Juicer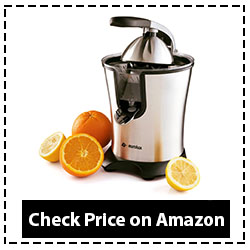 Eurolux is a vertical orange juicer that's perfect for personal family use. It weighs around 1.81 kilos. You won't have a problem storing this orange juicer on top of kitchen cupboards or cabinets. Manufacturers made the Eurolux Electric Orange Juicer out of stainless steel and finished its exterior with a glossy silver coating. Overall, the design and color of this product go well with contemporary kitchens, french county kitchens, and traditional kitchens.
Assembling this product is easy. The reamer, filter, handle, and other components fit naturally. You don't have to do a lot of bolting or screwing. All the parts are self-explanatory and you won't have to scratch your head about which parts go where.
Eurolux Electric Orange Juicer is a semi-manual orange juicer. This means that you have to do a bit of work while using it. To extract juice, you have to slice oranges in half and then insert them into the cone at the handle. All that you have to do after this is to press the handle so that the reamer can press all the juice out of the sliced oranges. Also, an automatic on/off function controls the motor for adjusting the pressure.
This product produces orange juice that's very clean and light. The integrated filter catches all the pits and pulp of the orange. This feature is great if you're not into orange juice that contains strands of fiber.
Features:
Integrated filter system.
It has suction cups on its base to prevent marring.
160-watt motor.
Automatic on/off function.
Stainless steel material and glossy silver finish.
Pros
Fast orange juicer.
Lightweight.
Non-bulky.
It produces clean juice and light.
Cons
A bit noisy.
Not suitable for making large quantities of orange juice.
The spout drips.
Eurolux Orange Juicer has a solid performance and is very easy to use and assemble. However, its spout isn't perfect and the motor makes significant noise. We give this product a score of 4/5.
---
7. Juiceman Citrus Juicer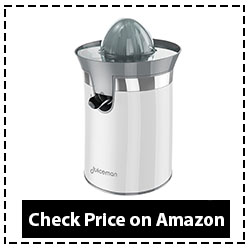 Juiceman Citrus has a very clean design. It uses gray and white tones. The base is a bit slender. Though simple, we appreciate this innovative design because it makes the Juiceman Citrus Juicer easy to hold aside from being sexy. Overall, the design of this product suits traditional kitchens, old-world kitchens, and coastal-inspired kitchens. Also, this product is lighter than Eurolux Electric Juicer. It only weighs .91 kilos.
As the name implies, you can use Juiceman Citrus Juicer to squeeze the goodies out of citruses. Juiceman Citrus Juicer has two juicing cones. The large cone is for getting juice out of oranges, grapefruits, mandarin oranges, tangerines, blood oranges, etc. On the other hand, the small cone is for extracting liquids from lemon, lime, limequats, etc.
A 40-watt reversible motor powers this electric citrus juicer. What's the purpose of the reverse function anyway? The reverse function provides for thorough extraction.
The motor springs into action as soon as the cones are pressed. So don't be surprised if you can't find an on/off button or switch on this product.
The juice that Juiceman Citrus Juicer produces is highly concentrated. Aside from making healthy drinks, this product is perfect for juicing fruits for cooking purposes. Also, this juicer makes highly nutritious juice because its motor isn't speedy.
Features:
40-watt reversible motor.
It has two juicing cones.
Very clean design.
Pressure activated.
Auto-reverse function.
Pros
A citrus juicer that doesn't destroy the nutrients of fruit juice.
Very responsive.
Great juicer for hard citruses.
Dynamic citrus juicer.
Cons
It can't be used to squeeze juice from fruits all at once.
You can extract juice from hard and soft citruses with Juiceman Citrus Juicer. Also, the juice that it provides is highly nutritious. Juiceman citrus juicer is a good product for health-conscious consumers. However, people can't use it to extract juice from a batch of fruits all at once. We give this product a score of 4/5.
---
8. BLACK+DECKER CJ630 Electric Citrus Juicer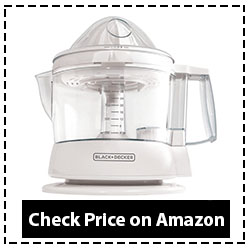 BLACK+DECKER CJ630 is very minimalist in terms of appearance. Manufacturers lined the bottom and top portions of this product with white plastic. On the other hand, BLACK+DECKER CJ630's base is transparent plastic. This allows you to see how much juice you're making while using this product. This electric citrus juicer is big but it's not heavy. Just like the Juiceman Citrus Juicer, this product only weighs .91 kilos.
Black+Decker CJ360 makes use of 20 watts motor. The 20-watt motor powers the reamer at the topmost part of BLACK+DECKER CJ630. Furthermore, manufacturers installed the motor with an automatic reverse function. The performance of this product is highly similar to Juiceman Citrus Juicer. The difference is that Black+Deck CJ360 is perfect for extracting large quantities of juice from citruses.
Features:
Transparent container base.
20-watt reversible motor.
4 juicing speeds.
Pros
Great juicer for extracting large quantities of juice from citruses.
Robust design but is not bulky.
It has a base that also acts as a juice container.
Cons
It needs to have a separate pulp storage.
The plastic handle and container base are prone to breakage.
Black+Deck CJ360 is what you need to make juice for large gatherings. The downside with this product is that manufacturers made this product out of non-reliable plastic material. That said, you have to be very careful not to drop this product on the floor or bang it with other kitchen appliances. We give this product 3/5 because of this.
---
9. Jamba Appliances Citrus Juicer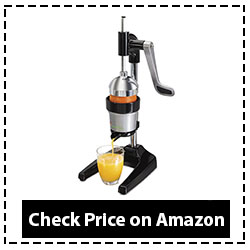 This product is a manual orange juicer that also works perfectly with other citruses that are as big as oranges. Manufacturers finished the head and stand of this product with black. On the other hand, the cone, base, and handle make use of a glossy silver finish. This product weighs 4 kilos. Its design is bulky. However, Jamba Appliances Citrus Juicer is a good alternative for the products that we mentioned previously.
This product doesn't perform as well as electric orange or citrus juicers. However, it's great as a countermeasure against the sudden breakage of the commercial orange juicer that restaurants have. Extracting juice with Jamba Appliances Citrus Juicer doesn't require a lot of effort. The ergonomic handles ensure that the user applies maximum pressure to oranges and other citrus fruits.
The spout of Jamba Appliances Citrus Juice is quite good. It delivers juice to various containers without drips and doesn't get clogged. Also, its hole isn't large. This means that small insects can't get inside and feed on the residue left on the spout.
Features:
Manual juicer.
Ergonomic handle.
Stainless steel reamer.
Anti-drip spout.
Pros
Great backup for commercial orange juicers.
High-pressure manual citrus juicer.
Durable.
Cons
Kinda pricey for a manual citrus juicer.
It doesn't work well on citruses smaller than oranges.
Bulky and weighs a bit.
Jamba Appliances Citrus Juicer is a manual juicer that small restaurants might need. It's durable and efficient. This product is also great for personal use. You might have to exert a little effort but the juice that you'll get from this product is as good as those that come from electric juicers. We give this product a score of 4/5.
---
10. Gourmia EPJ100 Electric Citrus Juicer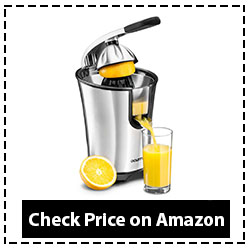 Gourmia EPJ100 looks very similar to Eurolux Electric Orange Juicer. A glossy silver finish is on its base and black plastic rests on its head and feet. This product is heavier compared to the Eurolux Electric Orange Juicer. Gourmia EPJ100 weighs 2.65 kilos. Still, this isn't much of a problem. Gourmia EPJ100 has a streamlined design for hassle-free use and transfer.
Gourmia EPJ100 is more dynamic than Eurolux Electric Orange Juicer. Aside from oranges, you can fit the cone on its handle with grapefruits, lemon, lime, and other citruses. A quiet motor powers the reamer and provides maximum juice extraction no matter how hard the fruit is. We recommend Gourmia EPJ100 if the Eurolux Electric Orange Juicer doesn't suit your taste.
The filter of this Gourmia EPJ100 is easy to clean. Furthermore, it separates the pulp and pits efficiently from the juice. The handle is soft on the arms and hands. It ensures that you won't hurt yourself when extracting large quantities of juice. Lastly, the spout isn't prone to clogging and doesn't require regular cleaning.
Features:
Ergonomic handle/hand press.
160-watt motor.
Well-designed spout.
SmartFlo filter.
Pros
It doesn't make a lot of noise.
Extract juice from citruses very well.
Easy to clean the filter.
Cons
Suddenly heats up sometimes.
Gourmia EPJ100 is a dynamic version of Eurolux Orange Juicer. This product is a good alternative if you think that Eurolux Electric Orange Juicer is too noisy or plain. This product may heat up suddenly but this is only a minor issue that doesn't have any significant effects. We give this product a score of 5/5.
---
Conclusion
Citrus or orange juicers don't have to be expensive to be great. Sometimes, affordable ones also work if you know how to choose. Try the products that we showed here. They're easy to use, assemble, and maintain. What are you waiting for? Get one of them now and extract juice like never before! If you are also looking for the best celery juicer on the market, don't miss this article.