As revealed in its name, the integral principle of making nice-tasting espresso is the supply of heated water to brew with and the formation of steam for nice milky beverages. However, the capacity to provide these two principles varies among different espresso machine types, making it confusing and difficult when it comes to choosing the best machine; especially since there are so many choices of espresso machines available on the market now.
My complete Best Espresso Machine Reviews today will address some of the basic points when it comes to investing in an Espresso Machine. You are claimed to get the basic knowledge about this machine kind and be able to choose the correct machine for yourself. Ok, let's start!
How Is An Espresso Maker Different From A Coffee Maker?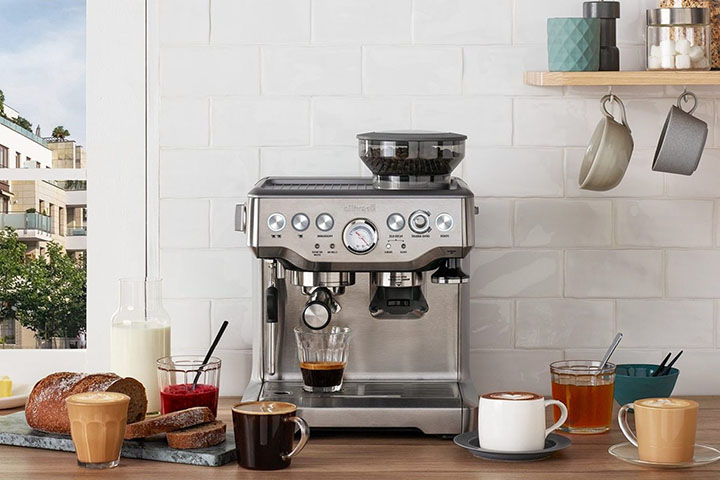 These two kinds of machines are similar in some ways. Even, there has been a question like: "Can we make espresso with a coffee maker (including all kinds of coffee makers, like Drip coffee maker, single cup coffee maker…)?". This part will show you the differences between the two machines.
At first look, these two machine kinds seem to be the same and work in the same way, but in fact, they are different. It is easy to recognize in its name that the espresso machine is supposed to brew espresso and the coffee maker is supposed to make coffee.
Unlike coffee makers, an espresso maker uses very finely ground coffee, as a result, it is able to do brewing within a short time. A coffee maker, on the other hand, requires a longer brewing time because its ingredients are not necessary to be fine.
An espresso maker needs high pressure so that the water can go through the coffee quickly, making sure of the best-resulting taste. Coffee makers, in contrast, use less pressure.
What's More?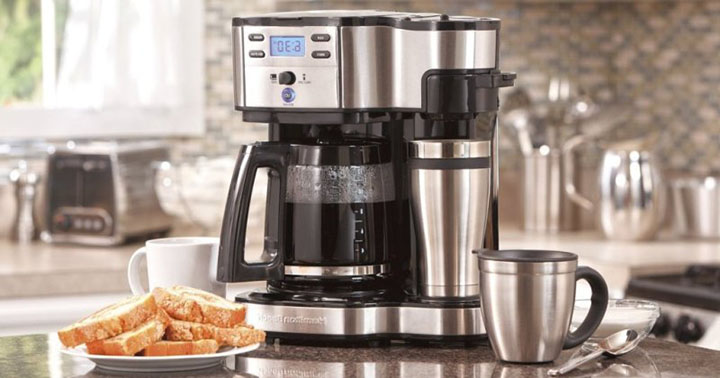 It is easier to use a coffee maker because it is more automatic in comparison with the latter which is either driven by steam or even semi-automatic. There are also fully automatic espresso machines but they are at a higher price. Plus, thanks to the simplicity of use, coffee makers do not require as many skills to work as espresso machines.
Espresso machines are able to make creamier coffee than coffee makers do, caused of the particle size. Particles used in coffee makers are often medium-size and not forced at high pressure, but those used in espresso are known as crema which is made as boiling water is quickly forced through the fine particles at high pressure.
Because of its simpler design, a coffee maker is somehow easier to clean than an espresso machine. This is really a benefit as most of us like a fresh cup of coffee.
Coffee makers do not require very fine beans so it does not require time to grind the coffee beans. Espresso, in contrast, needs very fine coffee particles for a good outcome.
Finally, a coffee maker can be adjusted to brew some different coffee types while espresso is suitable for making espresso only.
Benefits Of Espresso Machine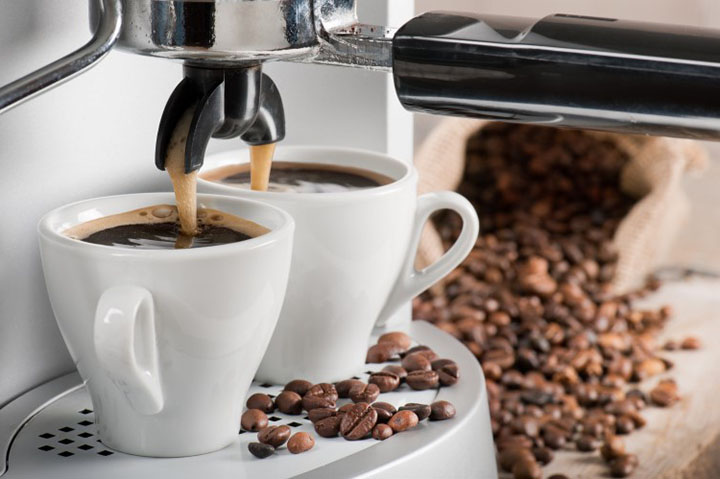 Making espresso is really a delicate and complicated procedure. It includes 2 steps: to extract hot water via tightly ground and to tightly pack coffee which takes almost one ounce and a half of hot water. In the end, the resulting coffee should be thick and dark brown and include some foam on top, which sometimes is called crema. In fact, each company or shop makes espresso in a different way, so to have espresso of your preference; is the best to a machine of your own at home. Rather than preferred espresso, what more a home espresso machine can benefit you? Let's take a look at the below information.
Save Money
Investing in an espresso brewing system will save you money in the long term. You can easily realize this when making a small comparison between the total amounts of money you spend weekly or monthly with that you spend on a new machine. All of you need for perfect espresso is a proper machine, your preferred coffee, hot enough water, and some minutes. Plus, the making process is short, resulting in a small amount of money for the electricity bill. At a closer look, this machine will save you money on not only actual coffee but also on the petrol, time, and effort that you spend going to a physical coffee shop. So it is money-saving enough?
Convenience
What do you think about enjoying fresh espresso drinks every day in the comfort of your own house? This is great, right? Rather than have to run to a coffee shop for espresso, with an espresso maker at home, you can now enjoy the espresso of your preference whenever you want. This is also great for serving guests. Serving fresh espresso in the comforts of your house is a luxury kind that coffee fans will certainly feel thankful for. How convenient it is!
Various Options
Owning an espresso brewer at home means that you can renew your morning coffee, and relax to some extent. For example, you are habitual to having espresso in the early morning before doing some other work, but today you are too busy to do that. So you can have it later when you are ready because the espresso brewing system is already in your house. Or rather than enjoy a drink outside with friends at the weekends, you can have an espresso with your beloved family members while watching TV. Great? Such changes are worth experiencing and comforting to a person.
All in all, espresso is a popular and preferred kind of drink all over the world, many people even consider it as a daily drink. So it is a smart choice to invest in an espresso brewer for espresso making at home. Why do you have to run to a coffee shop and pay more money when you can make your own espresso drink in the comforts of your own home?
What To Consider When It Comes To Buying An Espresso Machine?
Choosing the best machine can be hard work. There has been a wide range of models at different prices and styles, so it is difficult to know which one meets your requirements most. And for the most part, which one is able to make great coffee? The following considerations will help you classify the models and choose the most suitable item for yourself.
Espresso Machine Types
There are currently three main espresso maker types, namely: Semi-automatic/Automatic Espresso Machines, Super-Automatic Espresso Machines, and Coffee Pod Machines. Each type introduces a different experience of coffee making and requires different abilities to make coffee. The two last-named types require at least knowledge about barista and the two first-named ones at least common knowledge about espresso extraction and milk steaming methods. There is also another type called "manual espresso machines," but they are not very common.
Durability
You should be clear about how long the espresso maker can work before deciding to invest in it. Normally, a specialized-grade unit can work during the day without having to stop malfunctioning. The small and cheaper one, on the other hand, may break and become overheated when being used for a long time. The reason for such a difference is due to the ability to handle the pressure of the machine. The more pressure the machine can handle, the better it works. Plus, if there is an external grinder packed along, check to know how many coffee beans the machine is able to hold. Information like how much water the tank can include and how many espresso cups can be made in each brewing session should be also known. In conclusion, if you have a high demand for this drink, then you should invest in a professional machine.
Grinding Ability
Espresso makers introduce two grinding types: a built-in grinder or a separate one. The built-in grinder comes with a more expensive machine only. And the separate grinder must be bought for a cheaper maker which doesn't include the built-in grinder. If you often need to make a drink for some people at the same time, then consider the unit of the higher-capacity grinder.
At other points, although coffee grinders are more convenient, you need to check whether or not you want to store ground coffee in the bin after grinding. This is an added step because some units are designed to be able to release the grinds into the basket without further action.
Water Containing
A normal espresso maker is able to contain a proper amount of water to brew 8 cups of espresso at once. If you need more than that amount, your demands are rated to be too high. Additionally, some models include a water container with a small pouring spout. And these machines are often in small sizes for a further funnel.
In cases of big and high-end espresso machines, there is a link with a water source, similar to the way a refrigerator links with a water dispenser. If you intend to buy such machines, check whether or not you need rerouted piping for a smooth connection. However, such machines are basically designed for commercial use.
Frothing Ability
Besides the main product of espresso, espresso makers are supposed to make espresso-based beverages like cappuccinos, lattes, and macchiatos. But this function is only done when a frother is available. This is the reason why you need to check the availability of a frother when purchasing a machine with multiple functions. In fact, the frother is available in most machines, apart from some cheap-priced items. So the advice for those who want to enjoy different kinds of espresso-based beverages is to consider the more professional one.
Ease Of Cleaning
Checking how easy it is to do cleaning, or in other words, to disassemble and assemble the machine. Cleaning is simple work, but if not done regularly, your machine will soon lose its original capacity.
The parts like water receptacles, frothing parts, cups, and the other ones that are often exposed to moisture should be always rinsed properly after use.
Plus, the soap used to clean should also be chosen, otherwise, your espresso can taste bad.
Ease Of Storage
The ease of storage is another factor to consider when it comes to buying an espresso maker, especially if you do not use it daily. Consider the space you plan to use for storage then choose the item of proper size. A big item is hard to keep safe as they are normally heavy.
10 Best Espresso Machines in 2023
Below is a quick look at 10 top-rated espresso machines. Here you will get to know the overview and main features building up the final product you see.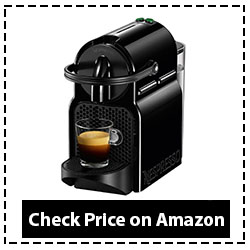 This Inissia machine is amazing to the point that it is well-matched with any interior design because it is compact, lightweight, and equipped with an ergonomic handle. It was built with the idea of simplicity and revolution in mind to finally offer users perfect Espresso coffee cups. Below are some of the outstanding features that contribute to the excellence of the product:
This machine allows easy capsule insertion and ejection.
It is supposed to deal with capsules of Nespresso coffee only.
It is designed with the technology of a compact brewing unit.
It doesn't take much time for you to complete a brewing, just 25 seconds for preheating and about one minute for brewing.
There are up to pumps of 19 Bar high pressure for you to choose from.
It offers 2 programmable buttons: Espresso or lungo preparation.
The water tank is as big as 24 ounces.
The foldable cup tray allows you to include tall serving glasses.
And the capsule container is able to hold between 9 and 11 used capsules.
It is energy-saving.
The features of automatic power-off automatically function after 9 minutes of inactivity.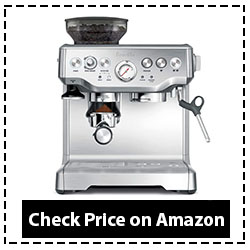 This machine is produced with the key notion of freshness through speed. As it is suggested in its name (express), the machine introduces an easy and effective method for beginners and aspiring baristas to brew the freshest and nicest tasting espressos ever right at their own house. Including a burr grinder, it allows you to complete your brewing process, from bean to brewing, as short as 60 seconds. Let's follow the bullets below to be clearer about the features built into the machine:
The machine is designed with 15 different Bar Italian Pump and up to 1600W Thermo coil heating system.
It performs, based on the purge function. It means that after the stream, the machine itself is able to automatically adjust the water temperature to satisfy the temperature of espresso extraction.
And it includes a conical burr grinder of stainless steel with a capacity of 1/2 lb. sealed bean hopper.
It has a removable water tank of 67 fl. oz (2L), with a handle.
It is an innovative model of the Breville BES860XL Barista Express.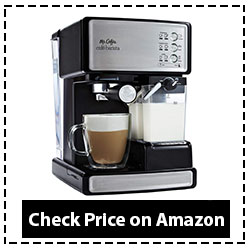 This maker is made to satisfy your wish of being your own Barista right in your kitchen. It offers two serving levels for you to choose from, single and double servings. You can choose your needed level by simply touching a button. In addition to this, it introduces up to 15 bars of pressure to satisfy your own beverage preference, just think of the bar you like and choose.
Last but not least, the inclusion of a milk container offers you one more easy-to-do recipe: to produce frothy lattes and cappuccinos. Just pour your desired espresso or coffee grounds in the port filter, fill the reservoir with milk, and push one of the three available beverage options.
Then, the machine will complete the process: to make a masterpiece at the witness of your own eyes. And here are some of the main features making the specialty of this maker:
It has a One-Touch-Control-Panel, allowing you to choose single or double servings of espresso, latte, or cappuccino.
The Automatic Milk Frother is added to froth milk up in beverages of creamy cappuccinos and lattes.
The removable milk reservoir allows easy filling, cleaning, and storage.
The cup tray is adjustable to be at the proper height for neat demitasse cups to produce big travel mugs.
The Removable Water Reservoir can be filled easily at the sink and is able to include enough water for constant brewing.
The Drip Catcher is removable and washable, making it possible to accumulate coffee drips and create easy cleaning.
The full packages include Single Shot Filter, Double Shot Filter, Tamper, Measuring Scoop, and Coffee Recipes.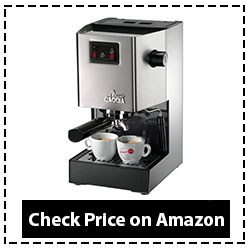 This is one of the best-selling espresso machines. It attracts users for some main factors. Firstly, it is manufactured based on commercial-grade quality. It is built with the rugged construction of high-quality materials for durability. Secondly, it offers good performance. It includes artificial brass components to handle the temperature.
Also, it is known as a representative of a new Turbo-Frother wand which replaces the traditional sleeve and wand of metal frothing. Last but not least, The Gaggia Classic is able to make anyone into a "Barista" with the simplicity and convenience of their own house. There are many more amazing things you can enjoy with this system presented below:
This is a great coffee/espresso maker with a large removable water reservoir of up to 72 ounces, claiming huge beverage produced without many stops to fill in.
The house is made from stainless steel.
The inclusion of brass portafilters and group heads ensures temperature constancy.
It includes a 17-1/2-bar pump, hot water dispenser, frothing wand, tamper, and measuring scoop.
It offers a stainless-steel filter basket of options: single and double-shot.
It is measured: as 14-1/4x8x9-1/2 inches.
User Manual and Quickstart Guide are included for any issues.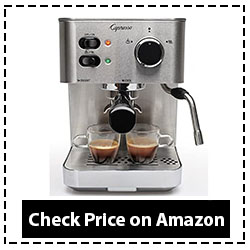 This machine is a perfect choice to brew nice-tasting espresso and cappuccino right at your house thanks to the innovative pump boiler system along with two filter options designed in the machine. Also, thanks to the options of two filters, the machine allows users of any brewing skills to brew barista-quality espresso with ease and success.
In addition, there is a lightweight dual-spout espresso filter specially designed for new espresso brewers so that they can brew one or two espressos at once with convenience and ease.
Furthermore, the built-in sieve in the filter helps to create optimal pressure without having to adjust the tamp or grind size, which finally results in an ideal brew made quickly and easily. For more detailed information about this machine, consider the following ideas:
The espresso maker offers two espresso filters, the first one is for convenience, the other one is for control.
You can choose to brew 1 or 2 espressos at once.
You are allowed to produce barista-style espresso with your own technique and preference.
The innovative pump boiler makes sure that the hot water reservoir will be always at a perfect level.
There is a 15-bar pump, offering ideal pressure to brew rich crema.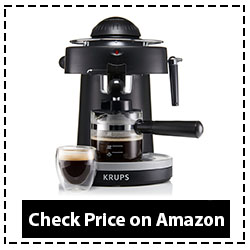 This is a compact and easy-to-operate machine with a 4-cup espresso option. It claims to produce fresh and nice-taste espresso and cappuccino with ease in the comfort of your house, creating enjoyment to start your day and finish your dinner. It is highlighted with a dozen outstanding features, some of the most remarkable ones are:
It is an easy-to-operate and very compact 4-bar steam espresso machine.
The 3-way switch knob and steam nozzle are available and convenient for easy milk frothing.
The drip tray is removable for easy cleaning.
And the safety valve is protected by a cap.
It includes a 4-cup glass carafe; and a measuring spoon.
It is able to operate at 750 watts and has a 2-year worldwide warranty.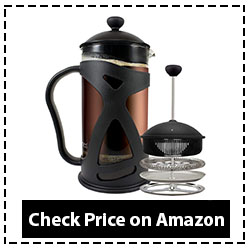 This is a great espresso maker that is able to offer as fine cups of coffee as a world-class Barista is able to. Because Smart Barista understands that an ideal cup of coffee is made thanks to a trustworthy and well-built coffee espresso tea press, everything used to make up the complete machine is checked carefully.
For instance, the plunger and filter parts built-in are firmly made of flimsy plastic and rubber, plus the infuser filter system is constructed with 3-piece-stainless steel, ensuring no other taste can be included in the espresso result. The more great things coming with the machine are clearly shown below:
It offers the simplest way of purifying ever. It allows extracting and brewing ingredients with a single large glass pitcher of 34 oz size ( or 8 Cups, or 1 Liter ) with no ground remains. It is also designed to be well-matched with a manual coffee grinder to better serve espresso lovers.
It has a protective design. Also, it has a special and good-looking insulated outer shell, bringing a new appearance to the kitchen counter and good machine protection.
It offers a comfortable handle. With a durable, sturdy, and smart design, the handle claims free-flowing and easy pouring to your mug.
It is an easy-to-clean dishwasher machine.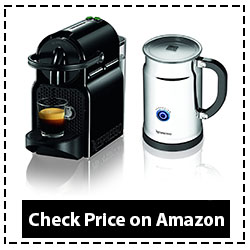 As an advanced model of Nespresso Inissia Espresso Maker, Black, this machine includes almost every feature that the former model offers, but with some improvements. The main features inside this machine can be summarized with some points as follows:
The maker has an Aeroccino Plus milk frother, allowing you to brew hot or cold milk froth with the simplicity of one button touch.
It allows easy capsule insertion and ejection.
It works with capsules of Espresso coffee only.
It is designed with the technology of a compact brewing unit.
It takes around 25 seconds to preheat and has a pump of 19 bar high pressure.
The water tank is removable and has a capacity of 24 ounces.
The cup tray is foldable and able to accommodate tall serving glasses.
And the used capsule container is able to hold between 9 and 11 used capsules.
It has 2 programmable buttons: one for Espresso brewing and one for lungo brewing.
It is energy-saving.
And it has the feature of automatic power off, which acts after 9 minutes of idleness.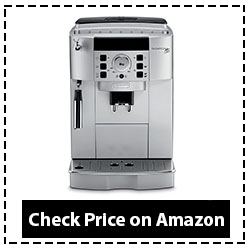 This is a compact automatic espresso maker that offers every feature that a full-size machine should have, but with a smaller, easier size. With the availability of it in your house, you can your guest can enjoy pleasant lattes and cappuccinos whenever you want, everything is done with the most ease ever. All you need to do is insert a milk container below the nozzle to make a rich, creamy froth, and the rest will be done by Magnifica XS.
Besides the amazing benefits of offering incredible espresso drinks, this machine is said to be money-saving because it has an energy-saving switch and a single boiler system. Below is a quick summary of what you can enjoy with the system:
In spite of its compact size, this machine offers all the features that a normal full-size automatic maker offers.
The water filtration system gives conveniently used tap water.
It has a patented cappuccino system frother, allowing easy latte and cappuccino preparation. It is able to automatically mix steam and milk for the rich, creamy froth to always produce perfect drinks.
It is able to save up to 77 percent of energy since it uses an energy-saving switch.
De'Longhi's specialized call center is always available to provide help with installing and maintaining the machine.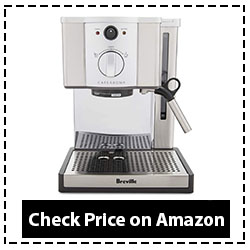 This is a finally-listed espresso machine. Like all of the items above, it comes with special and outstanding features to attract a number of users all over the world. It has a Thermoblock heating system, making sure that espresso will be always extracted at the ideal temperature. The full 15 bars of pressure control crema finally make a rich, barista-style aroma. And frothing and foaming are done easily. For a quicker approach, read the below points to better understand the system:
The machine has accessories single, stainless steel frothing pitcher, dual or pods espresso shots, twofold espresso cups, a tamping tool, a measuring spoon, and a cleaning tool.
It is made from stainless steel with a 15-bar Thermoblock pump.
It has a double l filter system to make brilliant crema.
And it has a froth booster and a cup-warming plate.
The water tank is as large as 1-2/7. Also, there is an external water window to let you know the water level in the tank, especially when it is low.
The removable drip tray and frothing jug are also included.
It is measured: 9 x 9 x 12 inches and comes with a 1-year warranty.
Final Words
In conclusion, the Espresso Machine is really worth investing item for a better life. With the availability of it in your house, you now can make fresh espresso in the comfort of your house. The process is simple and in a short time. However, what item is the best to invest in is also an important issue to consider. Keep studying the suggested ideas and the best espresso machine so that you will get your expected machine.