Camping chairs can be used for you to sit and relax whenever you're outdoors. These chairs can make you comfortably sit whether it may be on a campsite, campground, concert, or a spot on your lawn. Best camping chairs usually provide reliability, comfort, and exceptional build quality. These chairs will be exclusively used outdoors, so high-quality and durable materials are a must when you're looking for a good camping chair. Chill with your favorite drink in hand while unwinding outdoors. We've compiled a list of the 10 Best Camping Chairs you can buy on Amazon.
10 Best Camping Chairs of 2023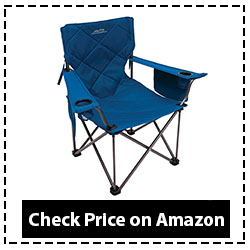 If you're looking for a wide color selection for a camping chair, this is a great choice. Choose from available color variations such as Khaki, Charcoal, Dark Blue, Red, and Light Gray. A sturdy powder-coated steel frame provides reliability every time you use this fantastic camping chair.
The fabric used for this chair is a 600D polyester fabric that is sure to last for a long time. You will want a wear-resistant material for a camping chair as it will be mainly used outdoors. An adjustable armrest provides comfort while using this chair. Conveniently place your favorite drink on the included cup holder located on the armrest.
When camping outdoors, we usually bring with us our food and camping supplies. A Side pocket feature on this chair provides you with convenience. Easily reach your items even while you're sitting comfortably. You can also transport and store this easily in your car with the included shoulder carry bag.
This camping chair is also a best-seller from ALPS Mountaineering. Customers have praised it for providing them with a Comfortable, Durable, and Practical camping chair that they can take anywhere.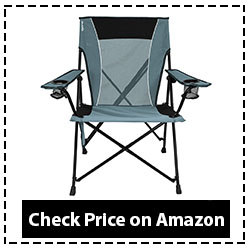 Experience a premium seating experience with this camping and sports-designed chair by Kijaro. Often, Camping chairs sag when you sit on them for a long time. The Dual-Lock feature of this portable chair offers no-sag seating. This feature can make you more comfortable and stable even if the ground that the chair's standing on is uneven.
A durable Diamond Ripstop polyester is used for this excellent camping chair to provide a long service life. Durability is what you want in a camping chair, as it is often used outdoors. A breathable mesh on the seat back ensures comfort when sitting for long periods. The mesh feature of this camping chair is excellent when the weather outside is hot. Prevent sweating and discomfort when using it in humid conditions.
A wide 23.5-inch seat width accommodates different body types. Enjoy your favorite drinks while relaxing with 2 cup holders included in this chair. Bring your favorite snacks with you as it also provides zip and mesh pockets. This practical camping chair also locks shut for easy storage and transport. You don't have to worry about the chair unfolding, especially when placed inside your car.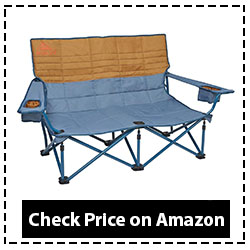 If you're looking for a Camping Chair that has cuddle couch features: then this is an excellent choice. Perfect when you want to enjoy the great outdoors with someone. Use it for a variety of outdoor activities such as camping, sports activities, and backyard gatherings.
A steel frame ensures durability and reliability with every use. The chair features a 600D polyester fabric that has anti-abrasive properties. The 600D Polyester Fabric is a tried and tested durable material used in high-quality backpacks, luggage, and laptop bags. The armrests are adjustable for the user's comfort preference. It has a wide 42-inch seat width that can accommodate two persons adequately. If you want to drink an ice-cold beverage while chilling outside, this chair offers an insulated beverage holder.
Kelty is a brand that specializes in outdoor gear. Kelty craftmanship is known to provide camping equipment that lasts for a long time. Be assured that high-quality parts are used in this fantastic camping chair. It can easily support up to 500 lbs. If you want to bring your dog on camping trips, this chair offers a puppy-proof fabric. The chair's fabric won't get easily scratched as it's dog-claw-proof. The wide seating also accommodates two persons, including your dog.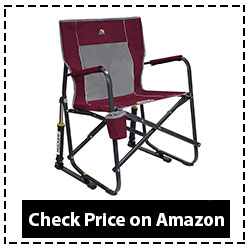 GCI Outdoor has been providing durable and portable chairs with their outdoor chair lineup. This Portable Rocking chair easily folds flat for easy storage and quick transport. A mesh backrest provides a cool seating experience, especially in hot weather.
The sturdy powder-coated steel frame provides stability and reliability every time you use this camping chair. Make your arms comfortable with the padded armrests. Drink your favorite beverage with an included beverage holder.
A unique feature of this Camping chair is that it has a smooth Rocking motion available. The Patented Spring-Action Rocking Technology enables a stable swaying motion. It's perfect if you like chairs that can be swayed back and forth.
The GCI Rocking Portable Chair also has an EAZY-FOLD system for safe closing and opening. Lightweight design provides ease of transport wherever you go. Supporting weights of up to 250 lbs, be assured that this will not break easily. A limited lifetime warranty is also offered with this folding camping chair. Have peace of mind whenever you use this on your outdoor trips. Take it anywhere you go, whether it may be in your camping, sports events, or even In your backyard.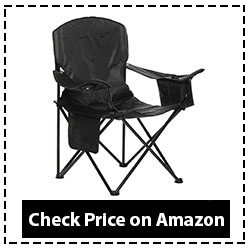 Made with 100% Polyester, the fabric used has strong fibers that will not wear down quickly. A cushioned seat and back provide excellent comfort every time you sit on this camping chair. It comes in sleek and minimalistic colors such as blue and black.
A beverage cooler pouch feature ensures your drinks are cold throughout the day. You don't have to bring a cooler every time you would want to chill outside. The Cooler Pouch hangs from the side of the chair and can up to 4 12-ounce cans. A cup holder located on the armrest is also available for your convenience. Bring food and magazines with you as a large storage pocket is offered on this practical camping chair.
The Amazongasic portable outdoor chair has a sturdy heavy-duty steel frame for reliability. A collapsible folding design feature provides easy storage. Take it along with you on your car trips as it fits easily on most car trunks. An included carry bag can make you take this marvelous camping chair anywhere you want.
Backed by Amazongaslcs limited 1-year warranty, be assured you can use this will last for a long time. If you want great back support, this chair offers tall, comfortable, and wide back support.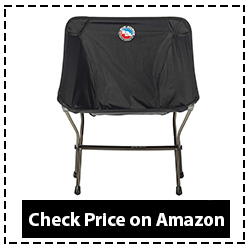 Skyline designed this chair for fast and light adventures. You can carry it anywhere because of its small pack and lightweight. Its manufacturers call it ultralight because its weight is just over 1lb. The strength-to-weight ratio of this camping chair is remarkable. It is one of the reasons why you cannot leave it behind when making a list of the best camping chairs. If you like to camp often, then this chair is perfect for you, as it's designed for all-terrain stability.
Its ergonomic design makes it comfortable to sit on. This camping chair features Big Agnes' patented hubless frames that are super strong and highly stable. The thing that makes it one of the best outdoor folding chairs is that it packs smaller than all other camping chairs in the market. Its setup and packing process are also very easy and quick.
Interlocking aircraft-grade aluminum poles are used to maximize strength and stability. Its maximum weight capacity is as high as 275lb. The wider and deeper seat of the Skyline UL backpacking chair offers the comfort of another level.
Pros
Lightweight
Superstrong
Small and quick pack
Ergonomic design
Easy to carry anywhere
Cons
Small size
No neck support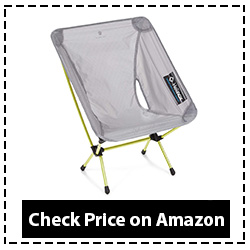 Helinox Chair Zero ultralight compact camping chair won the award for the best backpacker gear of the year in 2017. It's the lightest chair from Helinox with a weight of just 1.2lb. This chair is very easy to transport from one place to another as you can pack it smaller than a water bottle. You can simply put it inside your backpack and go camping.
This chair from Helinox is not only meant for travel, but it's durable, portable, beautiful, and comfortable as well. A camping chair that comes with this many attractive features certainly needs to be on the list of the best camping chairs of 2023.
Helinox has used advanced DAC aluminum alloy in the chair frame to maximize the strength-to-weight ratio. This is the reason why it can hold up to 265 lbs. The chair seat and carrying sack can withstand the rays of the sun and the harsh weather with ease as they are made from ultra-durable UV-resistant ripstop polyester. You can wash both the carrying sack and the chair seat in a washing machine, and it won't do any harm to them. Also, it's very easy and quick to set up and pack.
Pros
Lightweight
Durable
Portable
Very Strong
Easy to transport anywhere
Cons
Low to the ground
Sinks on soft ground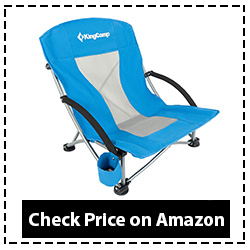 This camping chair is easy to open and fold without any tools. Just pull it out of our backpack and sit on it by opening it in a matter of seconds. The weight of this chair is 3 kg or 6.6 lbs, which makes it heavier than the above-listed camping chairs. Its load capacity is 300 lbs, which is definitely really high. If you are looking for a camping chair that is as strong as it can be, then this chair is the one for you.
Its ergonomic design ensures that you get to feel true comfort when you sit on it. This chair lets you enjoy the sunshine and breeze with a low slingback in a comfy position. The 600D Oxford Fabric and heavy-duty steel frame make it durable. It doesn't matter if you're slim or a big guy, this camping chair is suitable for all. Its big foot bars don't skid and keep you stable in one position for hours. On the right side, it features a cup holder that is great for holding your drinks throughout the day. It comes with padded armrests that give you a feeling of relaxation.
Pros
Features cup holders and padded armrests
Easy to carry
The low seat and raked back
Easy to store
Sturdy and stable
Durable and high-weight capacity
Cons
Not lightweight
Moderate price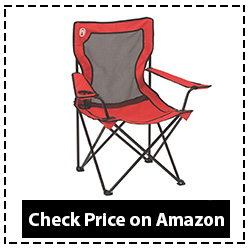 This portable folding chair from Coleman comes with a comfortable seat that is ideal for camping and get-togethers in the backyard. Its seat is 21.3 inches wide which makes sure that you have a lot of space to relax. The seat of this chair is made of nylon mesh fabric that offers proper ventilation for cooling comfort. The sitting height of the chair is also comfortable. A fun outdoor experience is always on the cards when you bring a Coleman broadband mesh quad camping chair with you.
The attached drink holder means that you are always in reach of a beverage. Its frame is made of heavy-duty steel that can hold onto a maximum of 250 lbs. It can easily fit inside most of the car trunks when folded, which means you can carry it anywhere with you. It's a good-looking camping chair that promises to last seasons of heavy use and is certainly powerful and featureful enough to be termed one of the best camping chairs of 2023.
Pros
Easy to carry and store
Wide space for a comfortable seat
Offers ventilation
Integrated drink holder
Easy to fold up
Comes with a sling bag for easy transportation
Cons
Not so durable
The cup holder is small
This camping chair has enough room that two people and a dog can easily sit and chill together. Its seat is 42 inches wide, which undoubtedly means a lot of space. If you like to go camping with your spouse or friend, then this camping chair is perfect for you. Its base is obviously pretty low, just 13.5 inches above the ground. Its slightly leaning-back design and low seat surely guarantee a relaxed outdoor experience.
The 600D weight polyester fabric used in this chair makes it nearly indestructible and well-cushioned. Its steel frame construction is quite strong, as it can withstand as much as 500 lbs of weight. Both the armrests are adjustable and feature an insulated drink holder with a good amount of space. Its weight is 15 lbs which doesn't seem to be too much for a friendly couch.
Pros
Cushioned
Adjustable armrests with integrated drink holder
Sturdy steel frame construction
Padded roll-tote storage for easy transportation
Wide space for sitting
Cons
Quite heavy to carry
Screws start rusting after just one week of use
Conclusion
Having a comfortable chair while camping can add a lot to your camping experience. It doesn't only make you feel relaxed but also makes your eating and drinking easier. Moreover, it's very easy to carry them around in your car's trunk or on your shoulder.
If you're planning to buy one of these 10 best camping chairs of 2023, then you should take all your camping needs into consideration and make a wise purchase. So, did you like this article? Please tell us in the comments section below because your feedback helps us improve.
And we think you may also interested in the 10 best camping tables and best camping tents.